Typically, you would build a structure like the standard fences, outdoor curtains, or even decorative panels. However, if these options do not appeal to you or you'd rather not build a structure, planting tall ornamental grasses for privacy is a viable option.
Tall grasses provide privacy, adding subtle barriers around your home or specific spaces while keeping the area natural. Besides keeping passersby and neighbors from seeing your home, tall grasses also beautify your property.
There are numerous selections of tall grasses you can plant in your yard. However, you must pick the best one. In that cases, below are excellent choices.
Related Posts:
15 Best Tall Ornamental Grasses for Privacy
Below is a list of tall ornamental grasses that can provide privacy to your home.
1. Switchgrass (Panicum virgatum)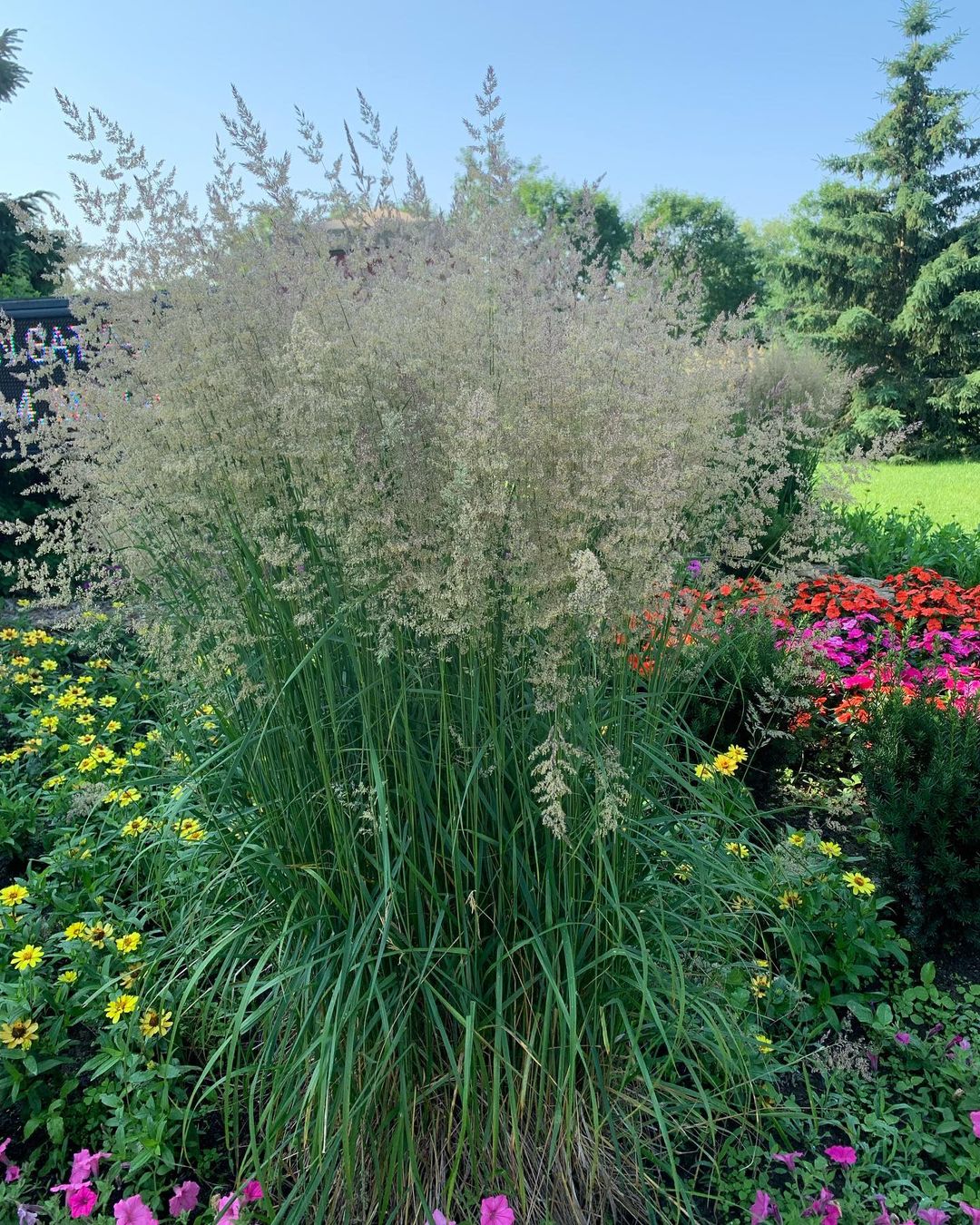 Switchgrass is warm-season grass is commonly found in North America's prairies, savannas, and roadsides. It's among the best tall ornamental grasses for privacy because it grows between 3 to 6 feet tall but can reach 9 feet.
Additionally, its upright stems form dense clumps, thus forming a natural barrier that lowers noise pollution and provides privacy.
The versatile, attractive grass also provides a habitat for wildlife, giving mammals and birds food and shelter. You can plant Switchgrass in different soil types, such as sandy soil and heavy clay. It also thrives in dry conditions and is low maintenance, only needing little fertilizer and water after it's established.
Also Read:
2. Big Bluestem Grass (Andropogon gerardii)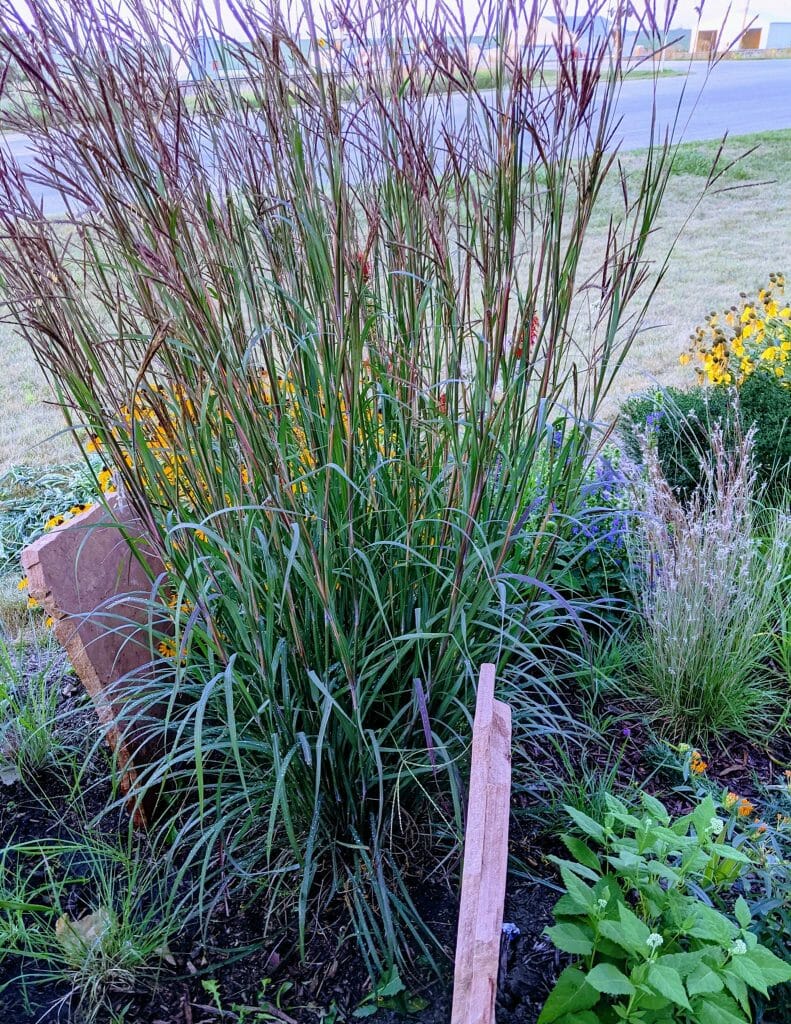 This tall grass is commonly found throughout North America's prairies and grasslands. The warm-season grass can grow up to 6 feet tall, has blue-green leaves that turn coppery-red in the fall, and thrives in well-drained soils and full sun.
Moreover, it is drought-tolerant once established, making it a great option if you live in an area with limited water resources. Big Bluestem grass offers privacy and forms a dense barrier since it has many stems and forms clumps.
In addition, its deep root system helps boost soil health and prevent erosion and provides diverse wildlife with habitat.
Also Read: Easy Foundation Plants for the Front of Your House
3. Pampas Grass (Cortaderia selloana)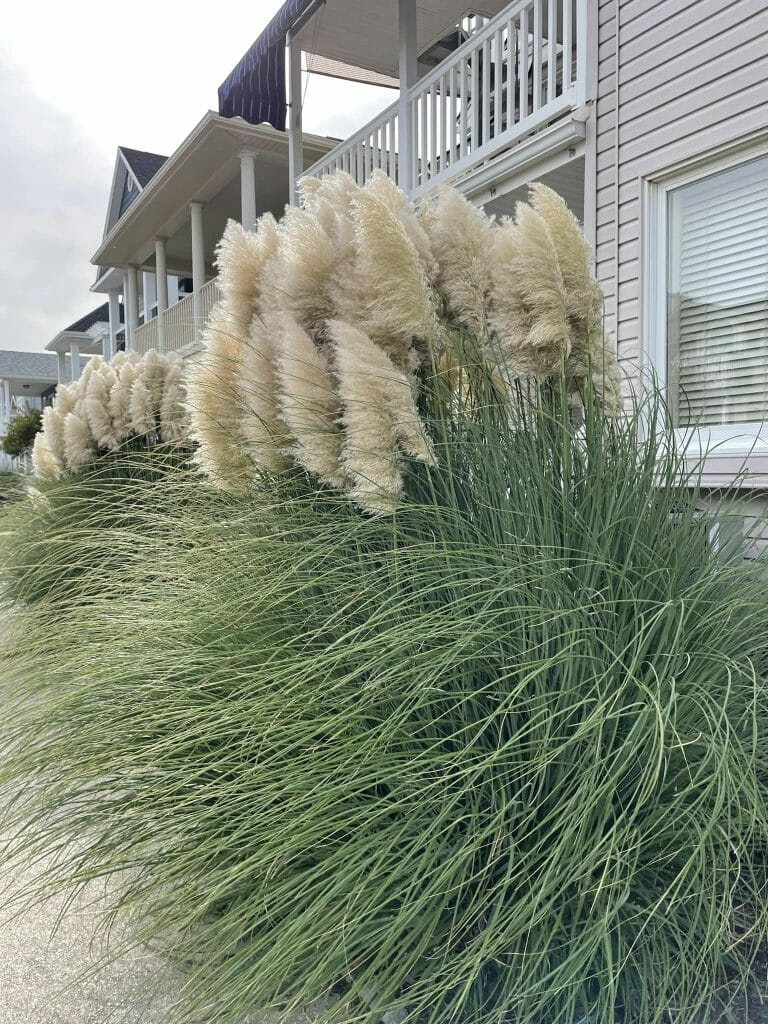 The impressive size, texture, and showy flowers of the Pampas grass make it a popular landscaping grass. This South American native, tall, perennial ornamental grass grows up to 10 to 13 feet and has 2 to 3 feet long feathery plumes.
Also Read: Cheap ways to block neighbors view
The fluffy plumes will make your home stunning in summer, giving it a dramatic, bold appearance. Grow this grass in full sun and soil with good drainage. It is tolerant to drought, only requiring watering during prolonged dry spells.
Although Pampas grass provides privacy, it's not as dense as other tall grasses and can consume a lot of your garden or lawn space.
If left unattended, it can grow beyond the intended area, so you must monitor and maintain it carefully to keep it from being a nuisance.
Also Read: Best lawn ornaments
4. Indian Grass (Sorghastrum nutans)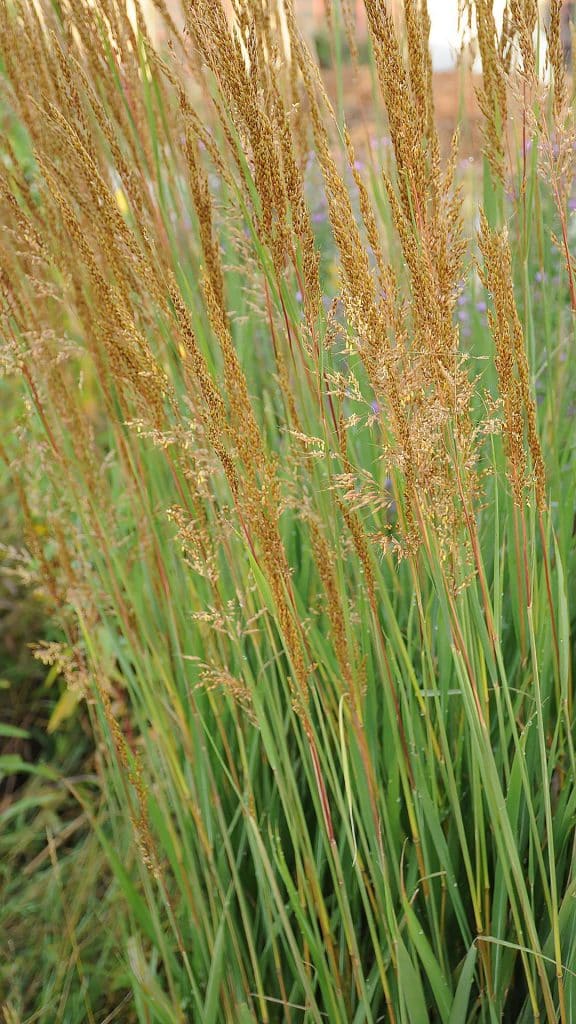 This is another tall, warm-season grass native to North America you can grow for privacy because of its height, texture, and density. It can grow up to 3 to 8 feet, and its golden-yellow foliage turns coppery when fall comes.
The natural barrier this grass creates can also be attributed to its dense clumps and the fact that it grows upright. The Indian grass will also help you lower noise pollution. Furthermore, it makes your home conducive for wildlife, providing mammals and birds with food and cover.
Indian grass is low-maintenance, drought-tolerant, requires little water or fertilizer once established, and is adaptable to different soil types, from sandy to heavy clay.
5. Ravenna Grass (Erianthus ravennae)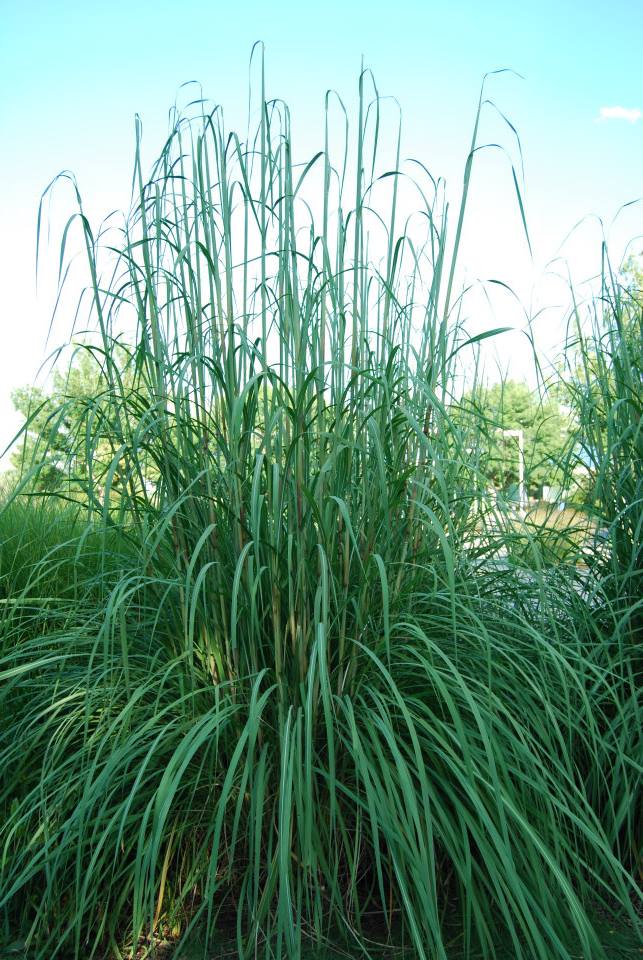 Ravenna grass is Pampas grass relative and makes an excellent tall, hardy grass for privacy, decoration, and noise pollution reduction.
It grows up to 6 to 10 feet tall under the right conditions, and you will love its white foliage, resembling the winter aura.
This grass grows upright and develops dense clumps, creating a natural barrier, and the plumes can reach 12 inches long.
Although Ravenna grass is typically used for soil erosion, this majestic grass would be an excellent decorative addition to your yard.
However, it needs careful management and monitoring since it can be invasive. Also, consider your yard size before planting.
6. Purple Fountain Grass (Pennisetum setaceum' Rubrum')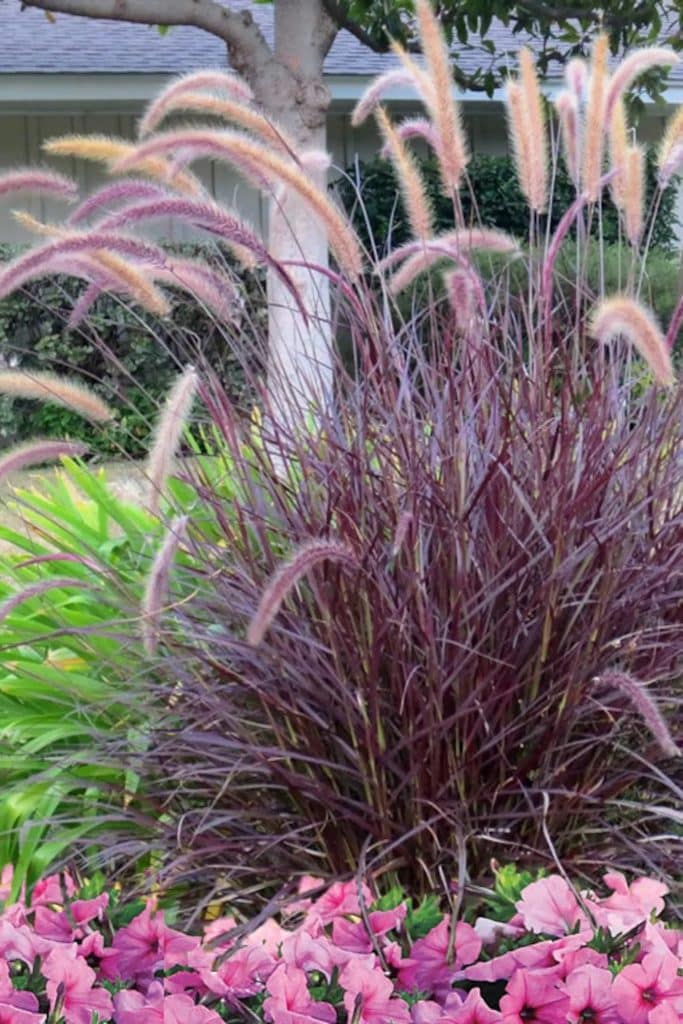 Purple foundation ornamental grass is widely planted for its graceful, arching stems and striking foliage. You can grow this versatile grass in borders, containers, mixed perennial beds, and mass plantings. The African native annual or perennial plant thrives in warm, arid climates.
Purple Fountain Grass grows 3 to 5 feet tall, spreads 2 to 4 feet, and has narrow, purplish-red leaves that grow up to 24 inches long. The leaves cascade down like a fountain and produce purple bottlebrush-like plumes in late summer.
However, this can be invasive in some regions, such as parts of California, Hawaii, and Florida.
7. Zebra Grass (Miscanthus sinensis 'Zebrinus')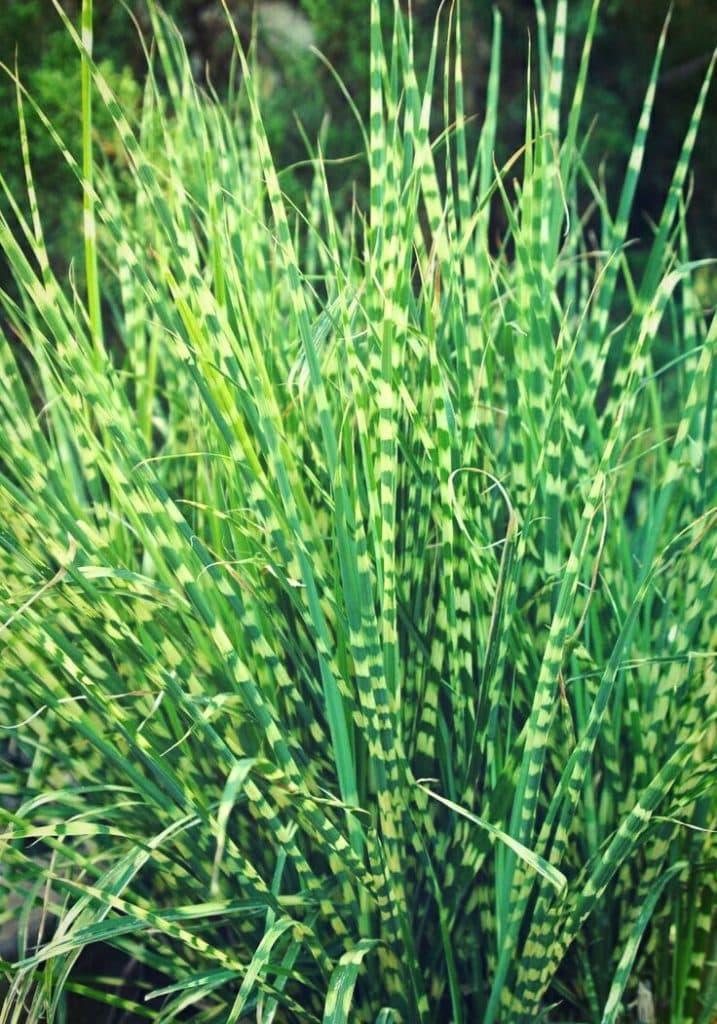 It's a tall ornamental grass native to eastern Asia that grows to 4 to 6 feet tall and has striking yellow and green horizontal foliage bands.
You can grow it for noise reduction and privacy since it's tall and dense, growing upright, and forms clumps.
Also, use it to make your landscape more appealing and give it more texture. It is tolerant to wet and drought conditions, grows in various soil types, and is low-maintenance.
8. Pink Muhly Grass (Muhlenbergia capillaris)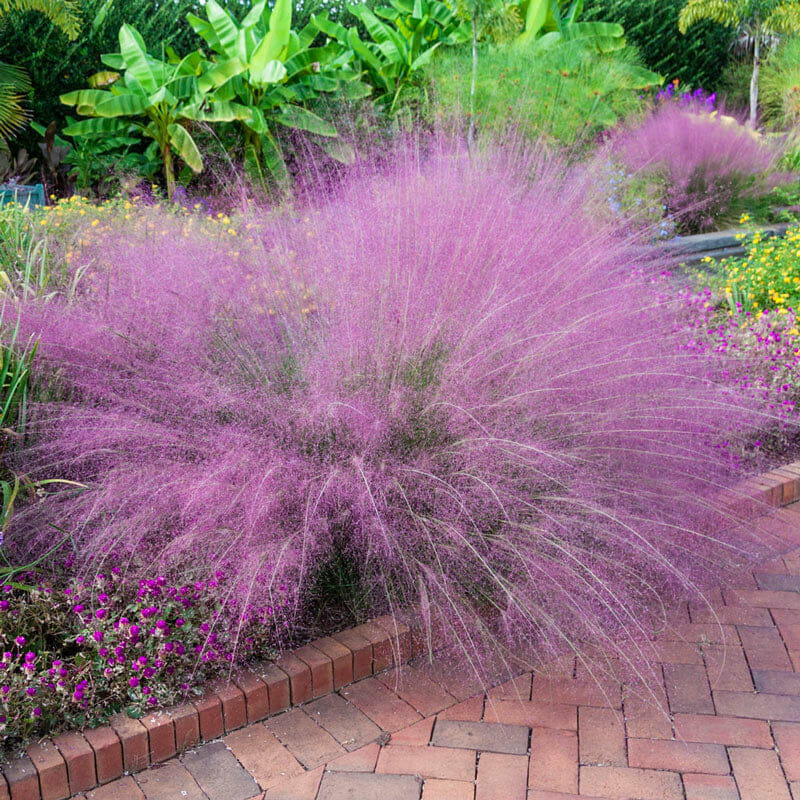 This beautiful ornamental grass may not be as tall as other grasses for privacy. However, its clumping growth habit and 2 to 4 feet of height are sufficient to keep your home from prying eyes.
The Pink Muhly grass is famous for its striking, pink-hued blooms emerging in the late summer and fall.
Its fluffy, pink plumes provide a unique and eye-catching texture to help add interest and color to your garden or as a low-maintenance ground cover. This grass is drought-tolerant and adaptable to many soil types.
9. Japanese Silver Grass (Miscanthus sinensis)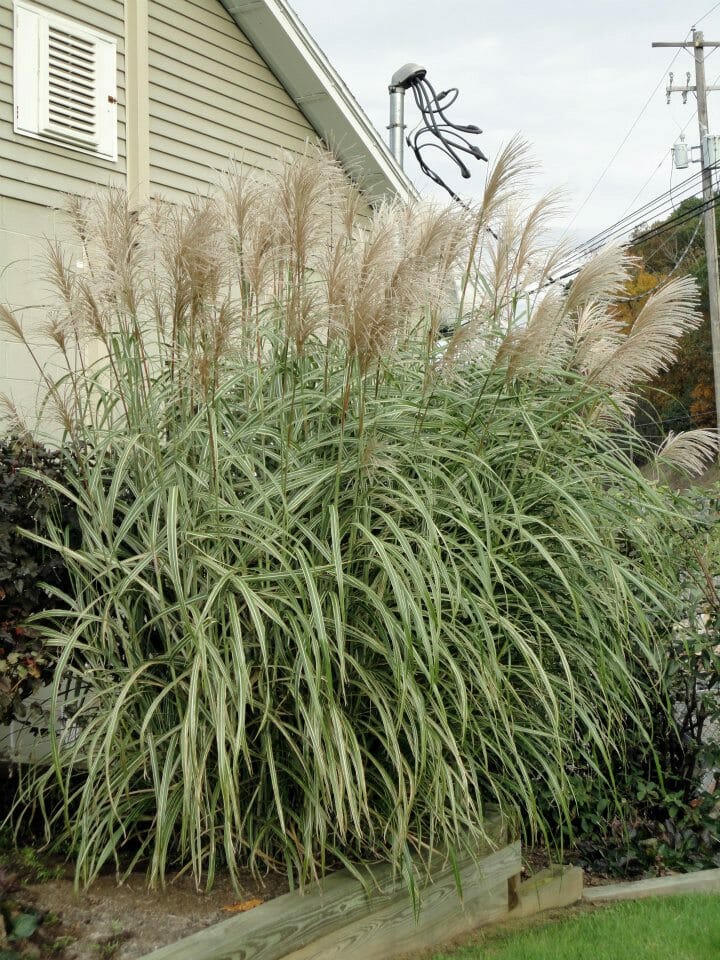 Japanese silver grass is native to Asia, grows to 4 to 8 feet tall, and develops dense clumps; hence ideal for yard privacy and has a clumping growth habit. In addition, this grass helps make your lawn more attractive and adds movement and texture owing to its narrow, silver-green, arching leaves with fluffy plumes.
This low-maintenance grass also helps control erosion and gives food and habitat to wildlife.
10. Beard grass (Andropogon gerardii)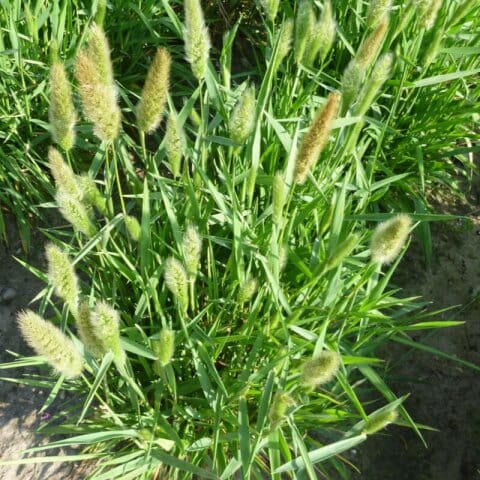 You will easily see this grass growing in North America's open meadows and prairies. Also, consider introducing it to your yard for windbreaking and privacy screening because it is a tall, clumping grass with a height of up to 5 feet.
Beard grass is also aesthetically appealing because of its narrow, blue-green leaves that turn warm copper in fall and attractive seed heads. It has deep roots making it tolerant to harsh conditions like drought.
11. Feather Reed Grass (Calamagrostis x acutiflora)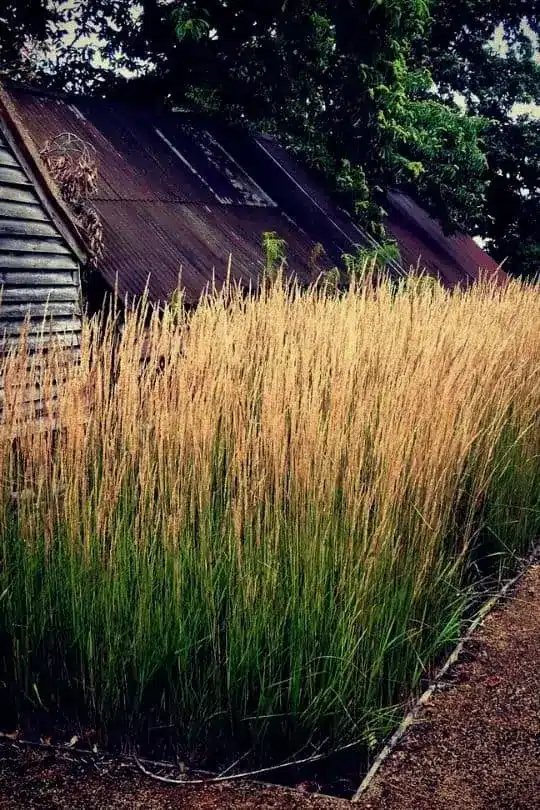 It is a Calamagrostis epigejos and Calamagrostis arundinacea hybrid. This versatile ornamental grass is popular for its striking appearance featuring attractive foliage and feathery plumes. It also grows upright and up to 5 feet tall and 2 to 3 feet wide hence ideal for privacy screening.
Feather Reed grass' narrow, green, or blue-green leaves turn golden-yellow in fall. The feathery plumes appear in summer and are suitable for floral arrangements.
12. Blue Gamma Grass (Bouteloua gracilis)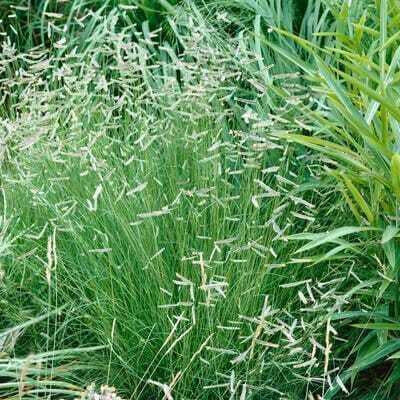 This low-maintenance, warm-season perennial grass is native to North America and excellent for privacy, especially in areas with limited water since it's drought resistant.
Its roots can expand up to 10 feet into the ground; that's why it's tolerant to dry and hot conditions.
Blue Gamma Grass is a clumping grass that grows 3 feet tall and 2 feet wide with narrow blue-green leaves. It also produces attractive seed heads in the summer that turn tan as they mature.
13. Northern Sea Oats Grass (Chasmanthium latifolium)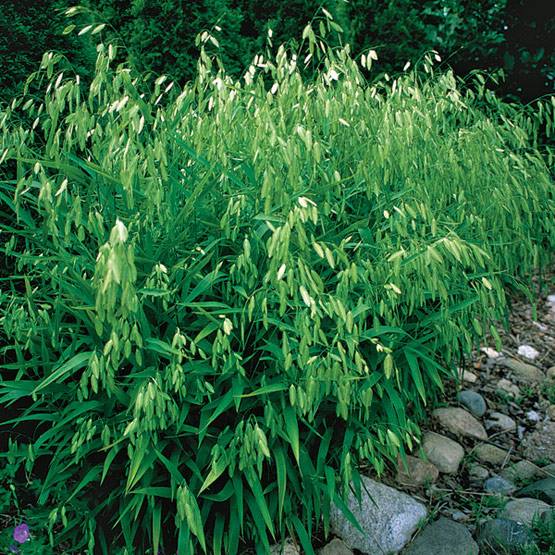 The clumping nature of this grass, height (3 to 5 feet), width (1 to 2 feet), unique seed heads, and attractive foliage makes it ideal for privacy screening and general landscaping. It has green, broad leaves that turn bronze in fall.
It produces drooping, flat seed heads resembling flattened oat spikes in summer which turn bronze or tan in fall, adding visual appeal.
14. Umbrella Bamboo (Fargesia murielae)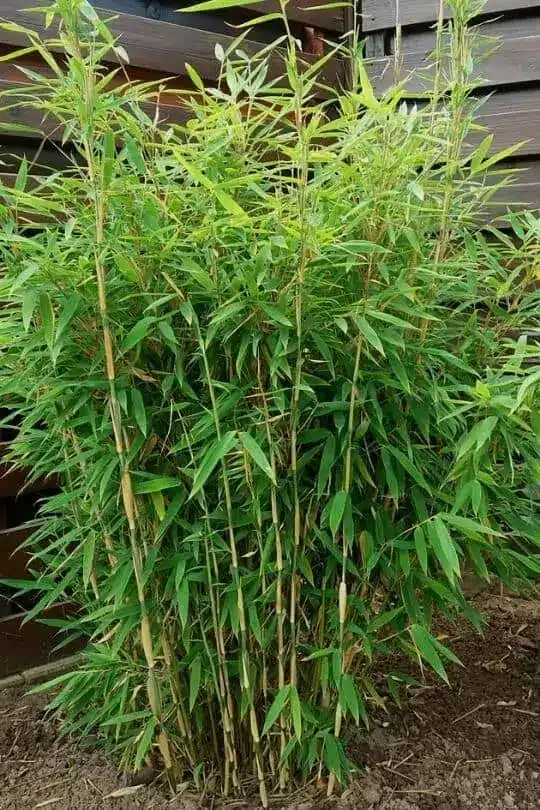 With a height and width of 10 to 15 feet and 6 to 8 feet, respectively, the Umbrella bamboo is perfect for privacy. Moreover, it has dark green, thin, delicate leaves and forms a dense canopy. This China native grass is low maintenance and attractive hence popular in gardens and landscapes.
Umbrella Bamboo is a non-invasive species, so it doesn't spread aggressively like other bamboo species; hence perfect for confined spaces.
15. Purple Majesty Grass (Pennisetum glaucum)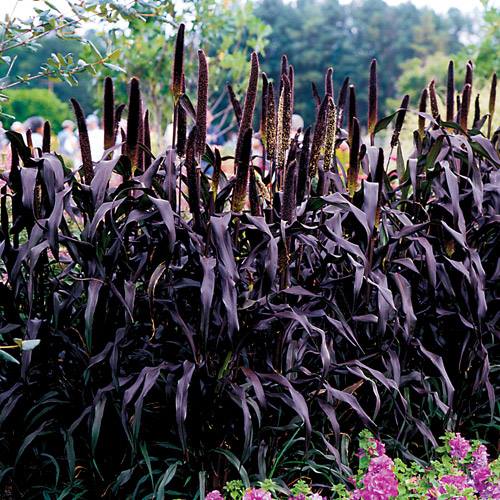 It's an annual ornamental grass native to Africa and renowned for its striking deep purple foliage. Purple Majesty Grass grows up to 4 to 5 feet high, 2 to 3 feet wide, and offers a dense coverage hence suitable for privacy screening.
Ensure your Purple Majesty Grass grows in well-drained soil and full sun and thrives in dry, hot conditions. However, it requires regular watering, especially during dry periods, to maintain its deep purple color.
Conclusion
The tall ornamental grasses discussed above are low maintenance, easy to grow, and perfectly provide the cover you need for privacy in your home. They will also add beautiful accents to your property.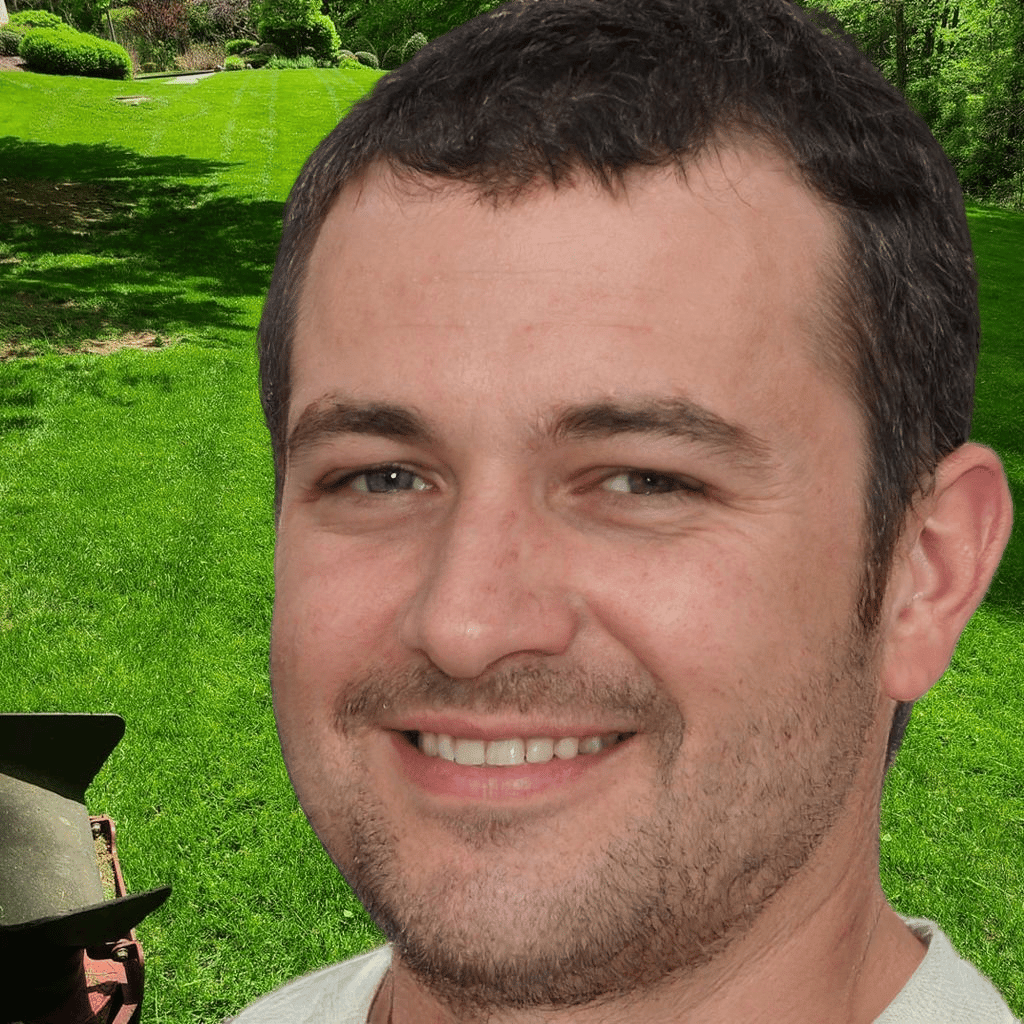 Hey there, I'm Derek Schew, a writer for Lawnholic.com, where we cover everything and anything related to lawns. As someone who's spent countless hours tending to my own lawn, I'm passionate about sharing my knowledge and helping others achieve the perfect yard. From lawn care tips to product reviews, I'm committed to providing our readers with the most accurate and up-to-date information available. So whether you're a seasoned lawn enthusiast or just getting started, I invite you to join our community and discover the joys of a lush, green lawn.