Add flair, foliage, texture, and charm to your lawn or garden with ornamental grasses. But wait a minute; your yard has shaded areas, so planting full-sun grasses isn't an option.
Fortunately, numerous shade-loving ornamental grass types exist today, so finding ground cover for your home is now easier than ever. You just need to choose your preferred ornamental grass.
Shade-loving ornamental grasses come in different heights, colors, and thicknesses. To help you decide, here are 15 best ornamental grasses for shade to consider.
15 Best Ornamental Grasses For Shade
1. Hakone Grass (Hakonechloa)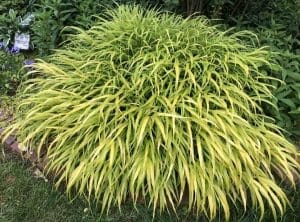 This clump-forming grass native to Japan is hardy in zones 5 to 9. Your shaded areas will look gorgeous thanks to this plant's thin, delicate, and gracefully arching blades in different shades of green, from chartreuse to deep green.
It forms a mounding habit because it spreads outwards and reaches heights around 12-18 inches (30-45 cm). Plant it en masse for a lush, stunning ground cover.
When fall comes, the foliage of this low-maintenance grass transitions to red, orange, and copper shades, adding warmth and charm to your landscape.
Related Post: Best tall ornamental grasses for privacy
2. Japanese Sedge (Carex morrowii)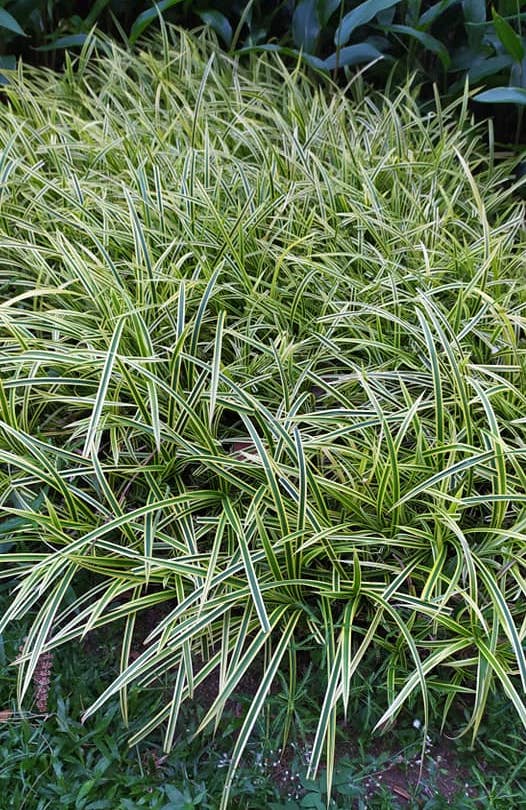 Use this attractive grass-like plant as ground cover or accent plant in shaded parts of your lawn. Its deep green, grass-like narrow, arching leaves can reach a height of about 12-18 inches (30-45 cm).
Depending on the cultivar you pick, your Japanese Sedge may exhibit variegated foliage with yellow, cream, or white stripes.
It will help you fill those bare spaces in your garden or lawn since it forms dense clumps or tufts, spreading slowly through rhizomes, thus creating a lush, carpet-like effect. It's recommended for zones 5 to 9.
3. Tufted Hairgrass (Deschampsia cespitosa)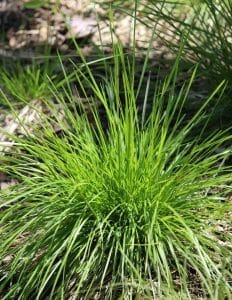 Tufted Hairgrass ornamental grass's graceful appearance and ability to grow in the shade is why it is highly valued. However, it would be best if you knew that its shade tolerance might vary depending on the specific conditions in your area but is generally well-suited for zones 4 to 9.
Regarding appearance, this grass features deep-green, narrow, arching leaves with foliage that forms dense clumps.
It prefers partial shade or dappled sunlight but can also tolerate full shade, hence a great choice for your woodland gardens or areas with limited direct sunlight.
4. Muhly Grass (Muhlenbergia Capillaris)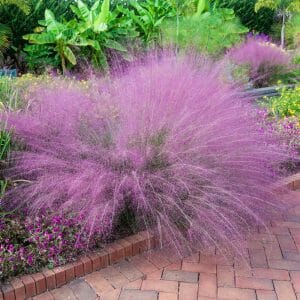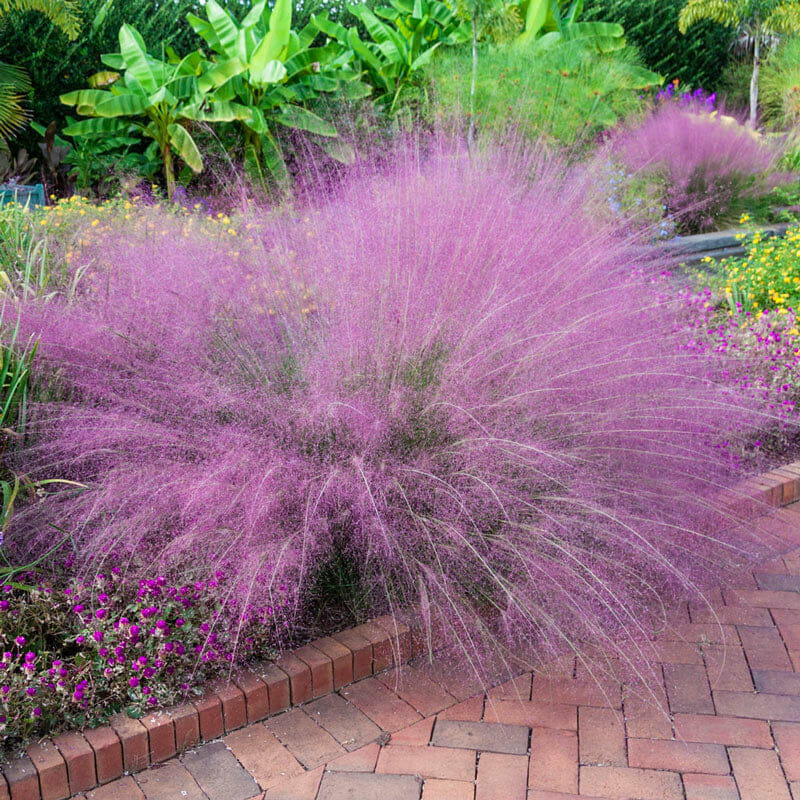 Yes, Muhly Grass thrives in full sun to partial shade conditions, but you will appreciate it more for its stunning display of feathery, pink to purple flower plumes. It's a favorite of mine for its dramatic flower display that creates an attractive backdrop.
Plant this versatile, hardy grass in groups or massed together for a vibrant and ethereal appearance provided by its airy, delicate plumes.
Muhly grass will help you add color and texture to your garden borders, rock gardens, or naturalized areas. It does well in hardiness zones 6 to 10.
5. Northern Sea Oats (Chasmanthium latifolium)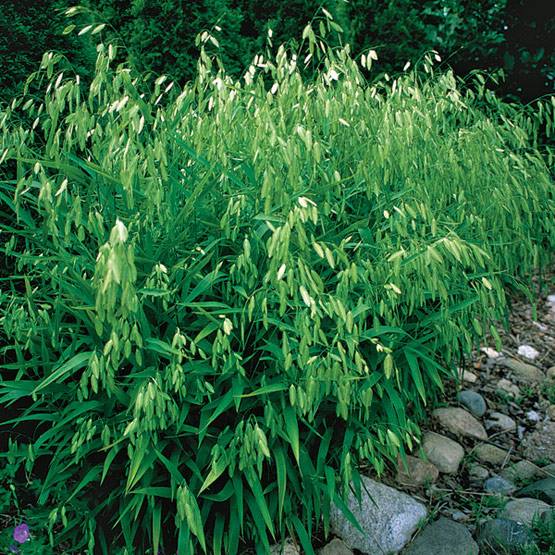 The most attractive feature of this ornamental grass is its ability to grow in the shade and add texture and interest to various garden settings. The bright green, broad, bamboo-like, arching leaves give this grass an attractive backdrop for the distinctive seed heads.
When late summer comes, Northern Sea Oats ornamental grass will beautify your lawn with flat, bamboo-like seed heads hanging gracefully from the stems.
These seed heads start out green, then turn bronze or coppery as they mature for a long-lasting display well into fall. It suits you if you live in hardy zones 3 to 8.
6. Blue Fescue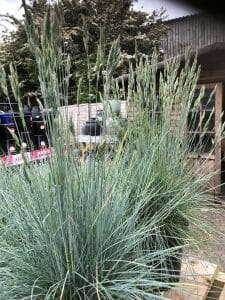 When other grasses change color as seasons come and go, Bue Fescue maintains its blue throughout the growing season, so rest assured your lawn will look cool and refreshing. While it thrives in full sun, light shade isn't a problem. Hardiness zones 4 to 8 suit the Blue Fescue.
Besides its distinct blue appearance, it features narrow, fine-textured leaves. The foliage forms compact, clumping tufts that can reach about 6 to 12 inches (15-30 cm). Blue Fescue is a fine choice, even if your area has poor soil.
7. Variegated Purple Moor Grass (Molinia caerulea)
Looking for beautiful grass for your winter landscape? The Variegated Purple Moor Grass might suit you, especially in hardiness zones 5 to 9. It is suitable for rain gardens or areas with poor drainage since it prefers consistently moist soil and can tolerate wetter conditions.
However, it can tolerate periodic dry spells once established but may lose some of its vigor and vibrancy without sufficient moisture.
It can also handle a range of light exposures but thrives in full sun to partial shade conditions, making it adaptable to various garden settings.
8. Sedge (Carex Spp.)
Sedge is an evergreen shade-loving grass that easily blends with other plants, so fill the shaded areas of your garden or lawn with Sedge for a natural look.
You have plenty of options when it comes to appearance since its grass-like foliage varies in color, texture, and height depending on the species.
For instance, some species have narrow leaves, others have fine, delicate foliage, while others have broader leaves.
The colors include green, blue-green, or variegated. Sedge growing zones vary depending on the specific species.
9. Japanese Sweet Flag (Acorus gramineus)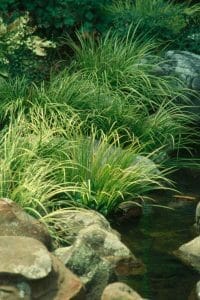 Ornamental grasses enhance your lawn's visual appeal, but what if I tell you some also provide a sweet fragrance? Japanese Sweet Flag is renowned for its attractive foliage and pleasant fragrance.
Crush or brush against its narrow, sword-shaped, green, variegated leaves with yellow or creamy-white stripes, and it will emit a fragrant scent.
It works well as a ground cover, especially in moist or shaded areas where other plants may struggle, and thrives in hardiness zones 5 to 9.
Also, consider planting it along water features, such as ponds or streams, to add texture and a pleasant fragrance.
10. Variegated Feather Reed Grass (Calamagrostis x acutiflora 'Overdam')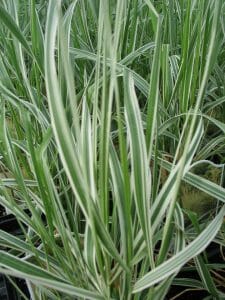 You will commonly see this ornamental grass in garden settings because it adds texture, movement, and visual interest to spaces thanks to its variegated foliage and graceful plumes. It's ideal for zones 4 to 9.
The erect, feathery plumes of this grass emerge in summer, starting with a pinkish tint and gradually fading to a tan or golden color as they mature.
Your lawn will remain visually appealing even after the growing season since the plumes persist into winter.
11. Quaking grass (Briza media)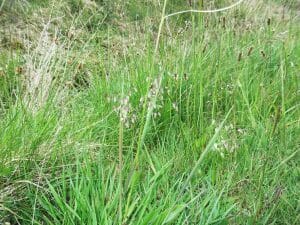 This self-seeding ornamental grass suits you if you want to create a naturalistic or meadow-style landscape. You can combine this grass with other flowering perennials or ornamental grasses for a soft, charming, ethereal touch.
While this 4 to 9-zone-suited grass has green, slender, arching leaves, its main attraction is the ornamental seed heads. They are airy, nodding panicles that sway and tremble with the slightest breeze, creating a quivering effect.
12. Dwarf fountain grass (Pennisetum alopecuroides 'Hameln')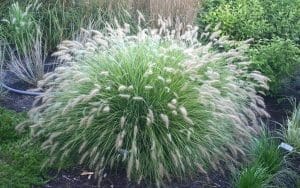 You will appreciate this compact, ornamental grass's fluffy, bottlebrush-like flower heads and graceful form. These reasons make it popular for adding texture, movement, and visual interest to garden landscapes.
Since it is small in stature, pick it for your smaller gardens, borders, and containers. Also, it makes excellent ornamental grass for shaded areas and flourishes in zones 5 to 9.
13. Soft Rush (Juncus effusus)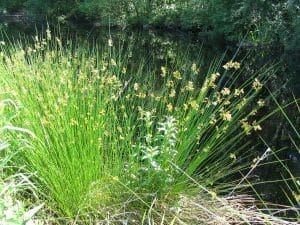 I recommend this perennial grass-like plant if you want to add texture and interest to water gardens or moist areas, particularly in hardiness zones 4 to 10.
It is known for its dense tufts of cylindrical, upright, smooth grass-like stems that can reach about 2-3 feet (60-90 cm).
This plant will give your spaces a neat and organized look since it grows in a dense, tufted fashion. The primary focus of Soft Rush is its stems, especially since the long, slender, and dark green leaves are inconspicuous.
14. Lilyturf (Liriope muscari)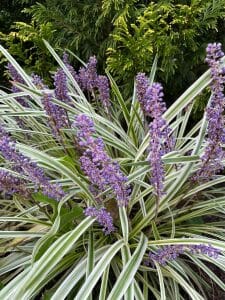 This versatile, attractive perennial plant provides excellent ground cover, particularly in shady areas where other plants may struggle.
It can tolerate various soil conditions, including clay and sandy soil but prefers moist, well-drained soil and is best suited for hardy zones 5-10.
With Lilyturf, your landscape will look appealing all year round because of its dense grass-like tufts of long, narrow, and arching leaves.
Also, it sends up slender spikes of small, purple, or violet-blue, bell-shaped flowers rising above the foliage, creating a striking contrast from late summer to early fall.
15. Mondo Grass (Ophiopogon Japonicus)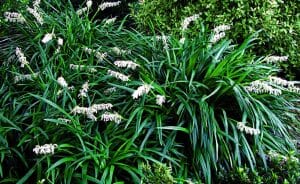 Fill in gaps between larger plants using Mondo Grass that's hardy in zones 6 to 11. Alternatively, take advantage of its dense foliage for a lush and uniform look, and contrast with other plants in mixed borders or rock gardens.
It produces dense, attractive tufts of dark green foliage and has an impeccable ground-covering habit.
Its attractiveness doesn't end there as it produces small, pale purple or white, inconspicuous flowers followed by black or blue-black berries.
Additionally, the foliage of this low-growing, clumping ornamental grass remains evergreen in many regions, providing year-round interest.
Final Remarks
Typically, ornamental grasses are best known for thriving in full or partial shade, so it's natural to think they are not suited for shady places. However, some species, like the ones discussed above, flourish in shade.
So, consider them for texture, contrast, movement and sound, low maintenance nature, foliage color and patterns, erosion control, and erosion control in the shaded parts of your lawn or garden.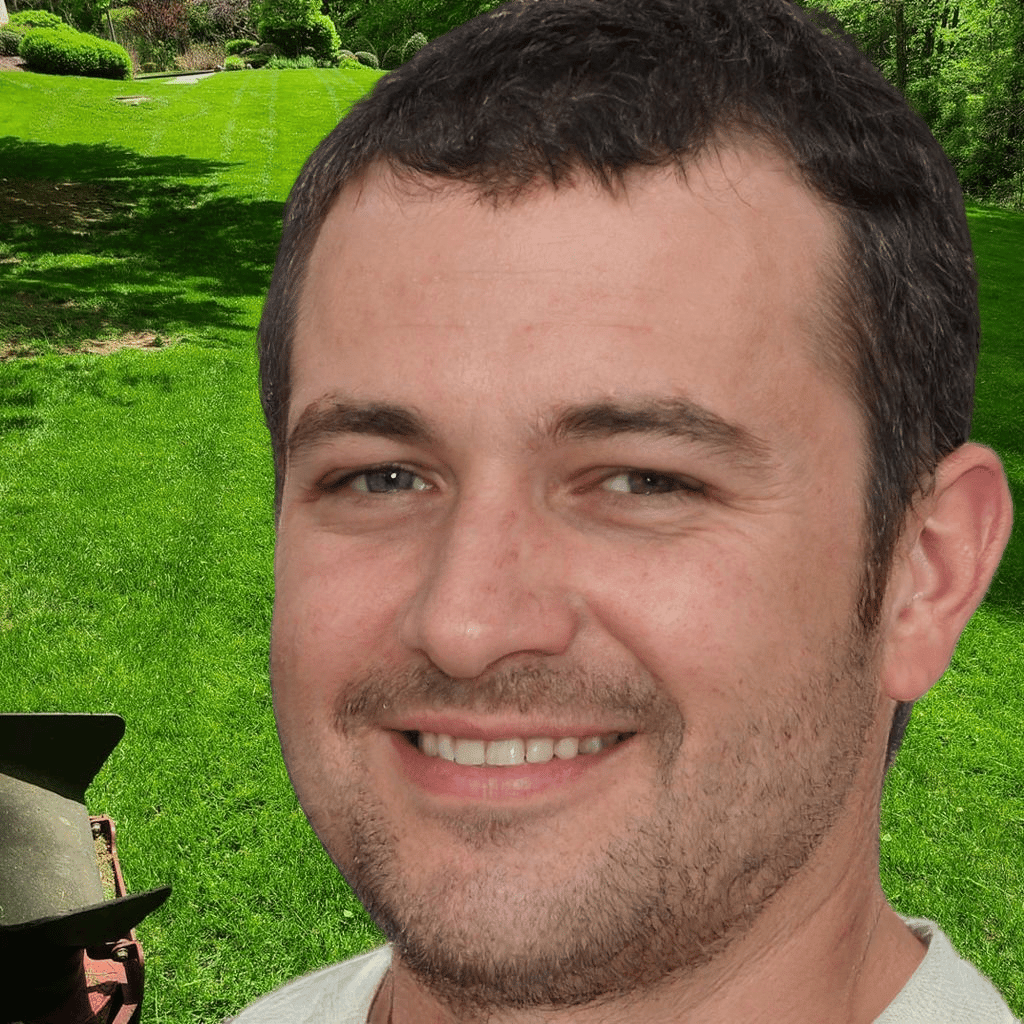 Hey there, I'm Derek Schew, a writer for Lawnholic.com, where we cover everything and anything related to lawns. As someone who's spent countless hours tending to my own lawn, I'm passionate about sharing my knowledge and helping others achieve the perfect yard. From lawn care tips to product reviews, I'm committed to providing our readers with the most accurate and up-to-date information available. So whether you're a seasoned lawn enthusiast or just getting started, I invite you to join our community and discover the joys of a lush, green lawn.