Having neighbors is mostly part and parcel of living in a community, especially in residential areas or apartment buildings. They say a good neighbor is a fellow who smiles at you over the back fence but doesn't climb over it, but what if there's no enclosure between you?
Imagine trying to have a blissful day in your yard enjoying the sun or hosting a small gathering of your friends. However, you cannot relax because neighbors and passersby can see everything you are doing due to the lack of an enclosure. Awkward and intrusive, right?
Fortunately, there are many ways to block neighbors view of your yard. The best part is you can keep prying eyes out without costing you much money. Consider these cheap options.
17 Cheap Ways To Block Neighbors View Of Your Yard
1. Plant Shrubs Or Trees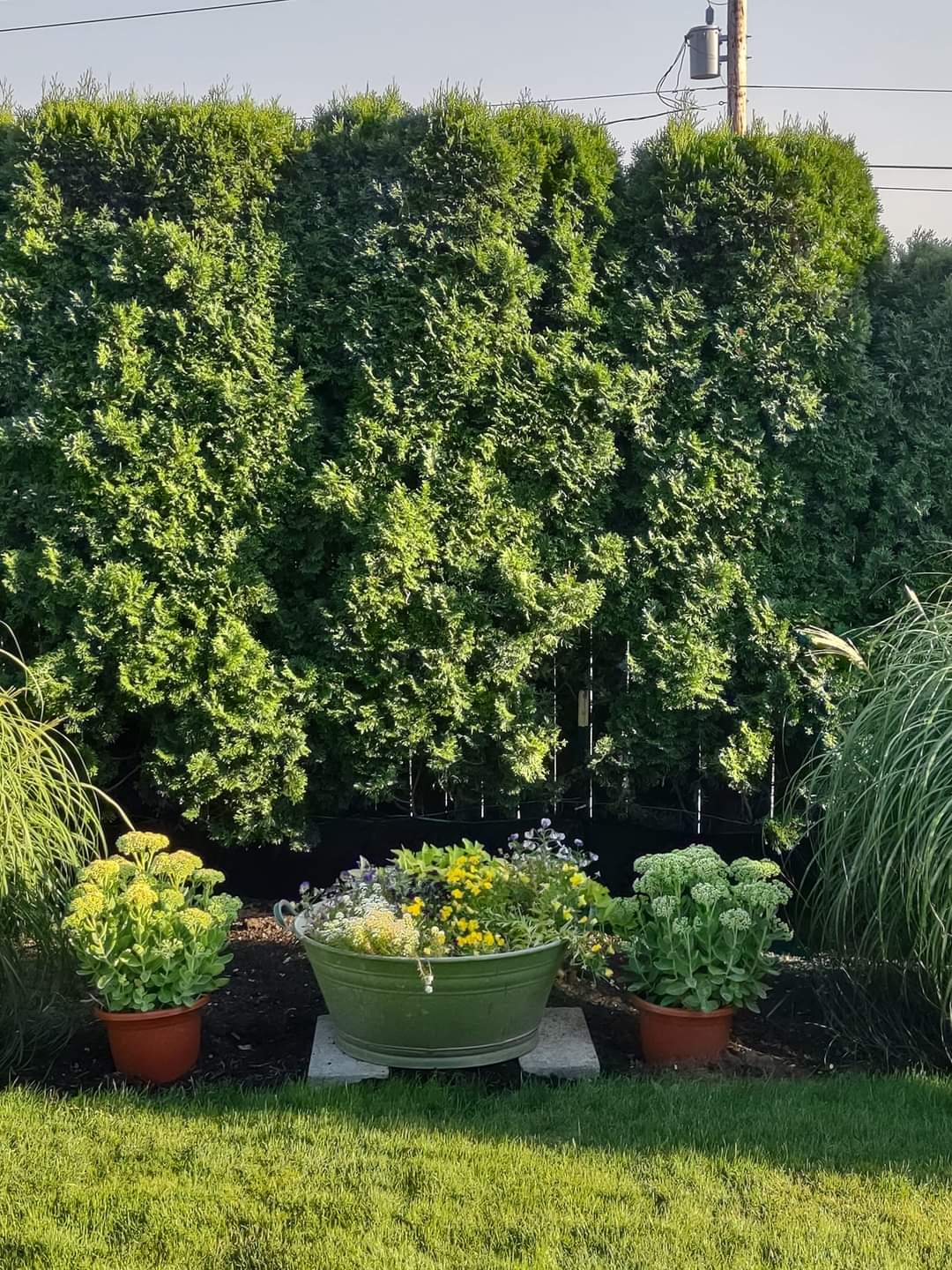 Shrubs and trees have plenty of good things to offer. So, why not plant tall shrubs or trees along the perimeter of your yard for a natural barrier against prying eyes?
Choose fast-growing varieties like bamboo, arborvitae, or Leyland cypress for quicker results.
Besides providing privacy, shrubs or trees around your yard perimeter offer overhead shade, noise reduction, and a beautiful yard. However, you must choose your plants wisely.
For instance, evergreen shrubs or trees are much better than seasonal ones since they will provide coverage throughout the year, including winter.
Also, why not mix various trees or shrubs for a more visually appealing and diverse privacy screen?
Related Posts:
2. Wooden Boards
They are simple, cheap, and in different shapes and sizes. You can easily create much-needed privacy using wooden boards but choose boards suitable for outdoor use and can withstand the elements.
I recommend cedar or pressure-treated lumber because they are highly durable. Also, since the thickness of the boards varies, base your decision-making on your desired level of privacy.
If you would like, paint or stain the wooden boards to enhance their appearance and protect them from weathering.
Read more: Landscaping Plants That Look Good Year Round
3. Install A Trellis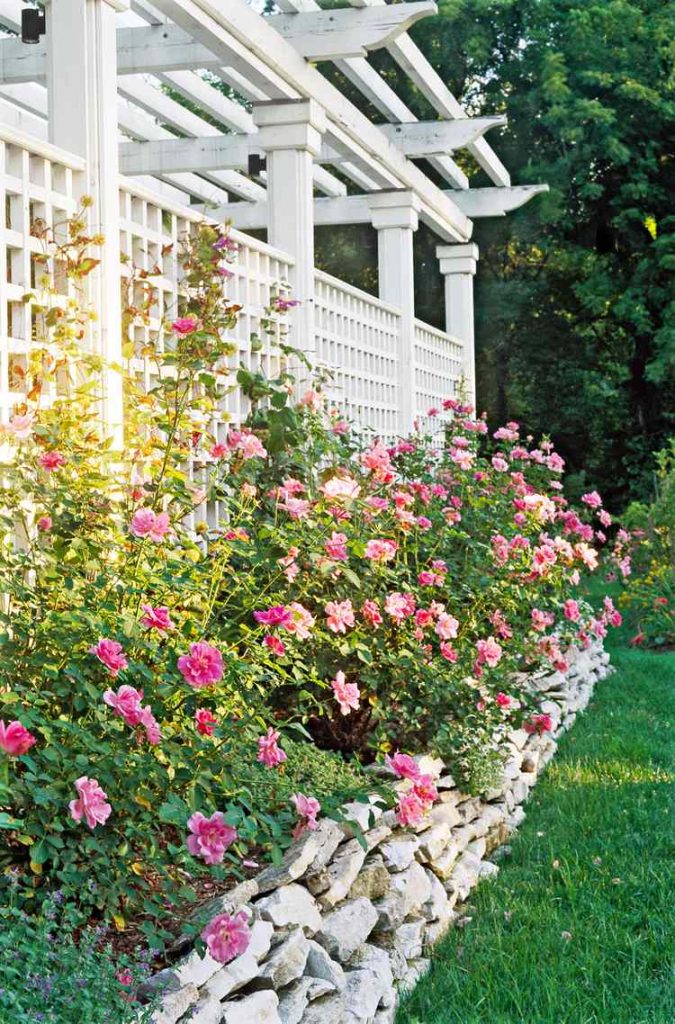 Instead of establishing an entire fence around your yard, why not set up a trellis? Trellises come in different materials like metal, wood, or vinyl.
The sizes, styles, and durability also vary, so choose your trellis based on your needs, aesthetics, and budget.
You can even turn it into a living screen by attaching climbing plants like ivy or clematis to the trellis. This inexpensive solution will easily make your yard attractive and enclosed.
4. Hang Outdoor Curtains Or Shades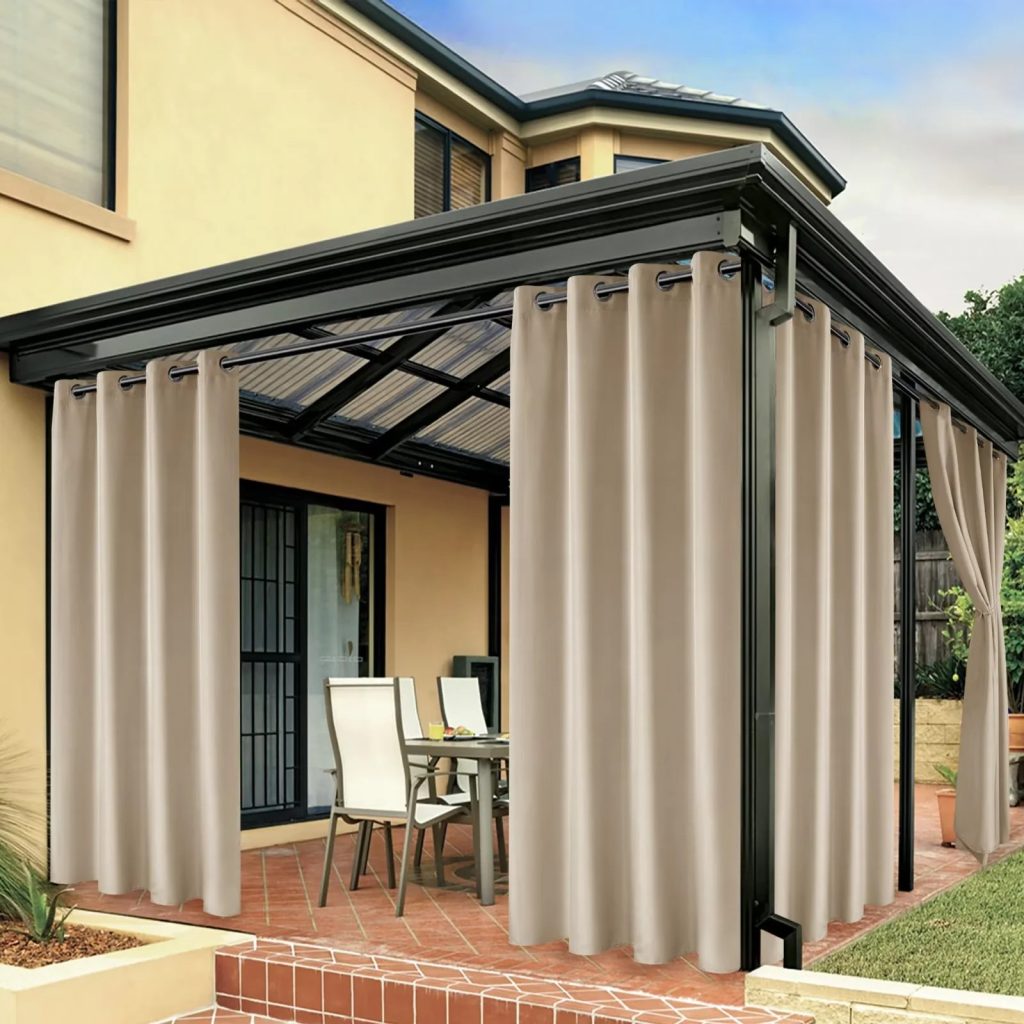 Are you looking for a privacy screen you can effortlessly remove when you do not need it? Consider creating privacy using outdoor curtains or shades.
Develop an outdoor cocoon in areas you like to spend time within your yard using curtains made of weather-resistant fabric.
Curtains or shades can flap around and even get damaged, especially when windy, so it would be best if you secure them with clips, ties, or weights. Also, consider whether you require partial or full coverage.
5. Exercise Your Creativity With Bamboo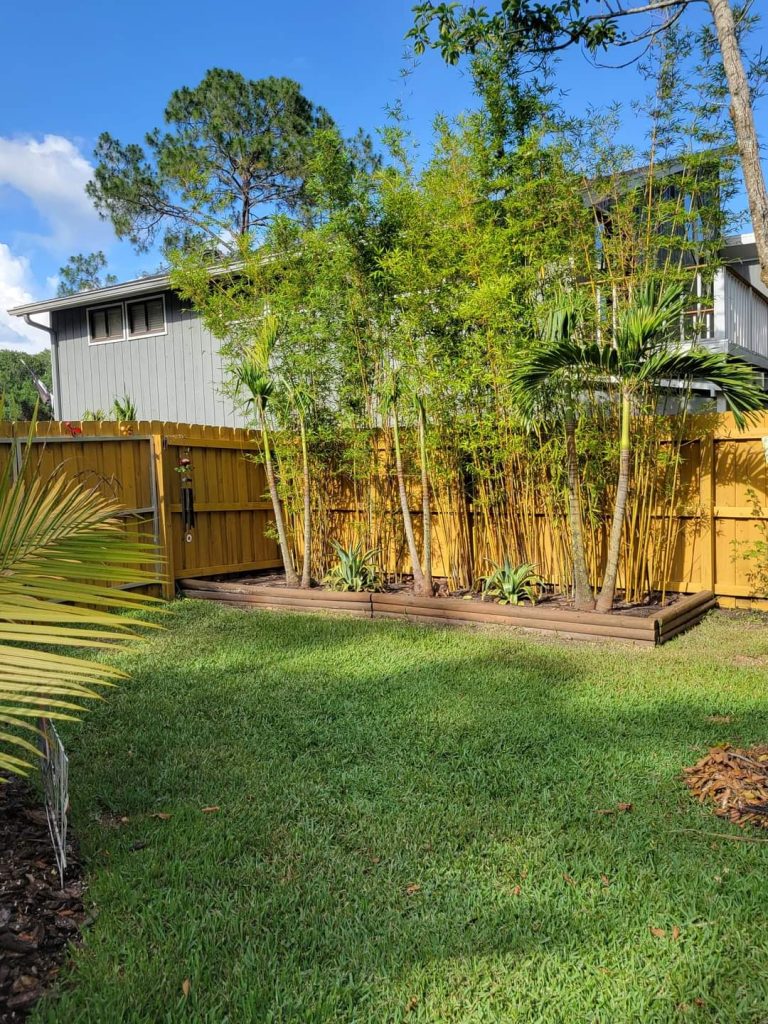 Bamboo has a lot to offer in terms of privacy. You can build bamboo privacy screens in various sizes and shapes, allowing flexibility in creating the desired level of privacy and aesthetic appeal.
Additionally, combine bamboo with other materials, such as fabric or glass, to add further functionality and style.
Depending on your preference, create a green wall from bamboo or use bamboo reeds.
6. Build A Pallet Fence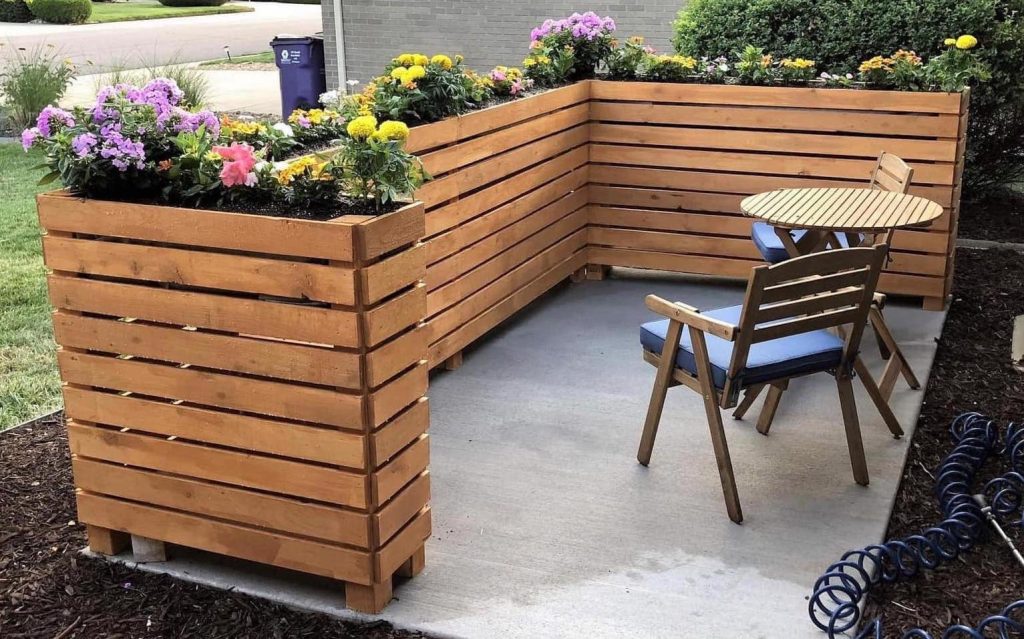 Do you have pallets lying around unused on your property? Consider disassembling them and using the planks to build a basic fence structure to create a simple and cost-effective fence.
However, what if you don't readily have pallets but want a pallet fence? Worry not; You can find them for free or cheaply from local businesses, warehouses, or online marketplaces.
7. Create A Vertical Garden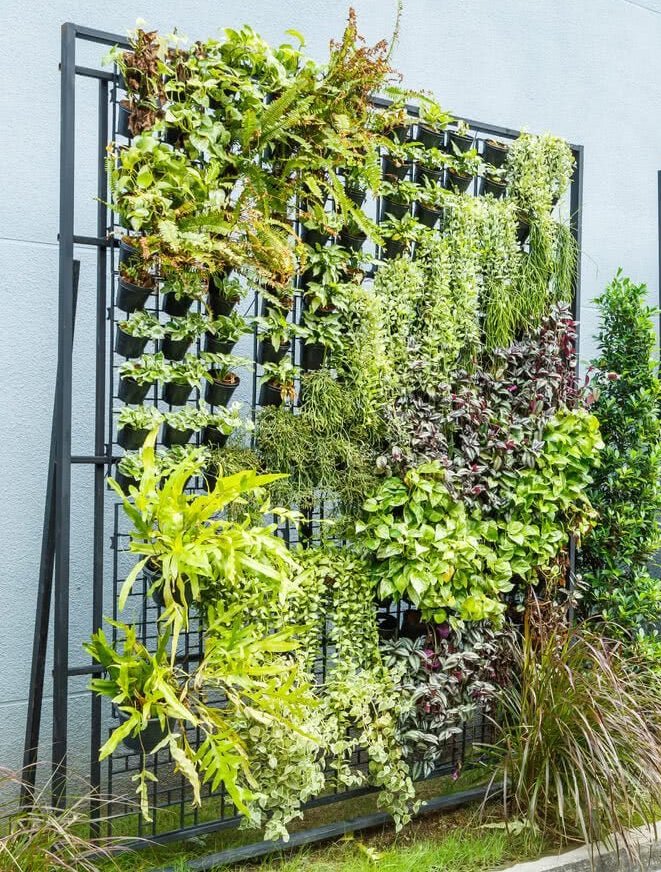 Block the view of your yard and make your home stunning by creating a vertical garden made from hanging planters or repurposed containers. Fill the planters with trailing vines or colorful flowers.
8. Hedges Privacy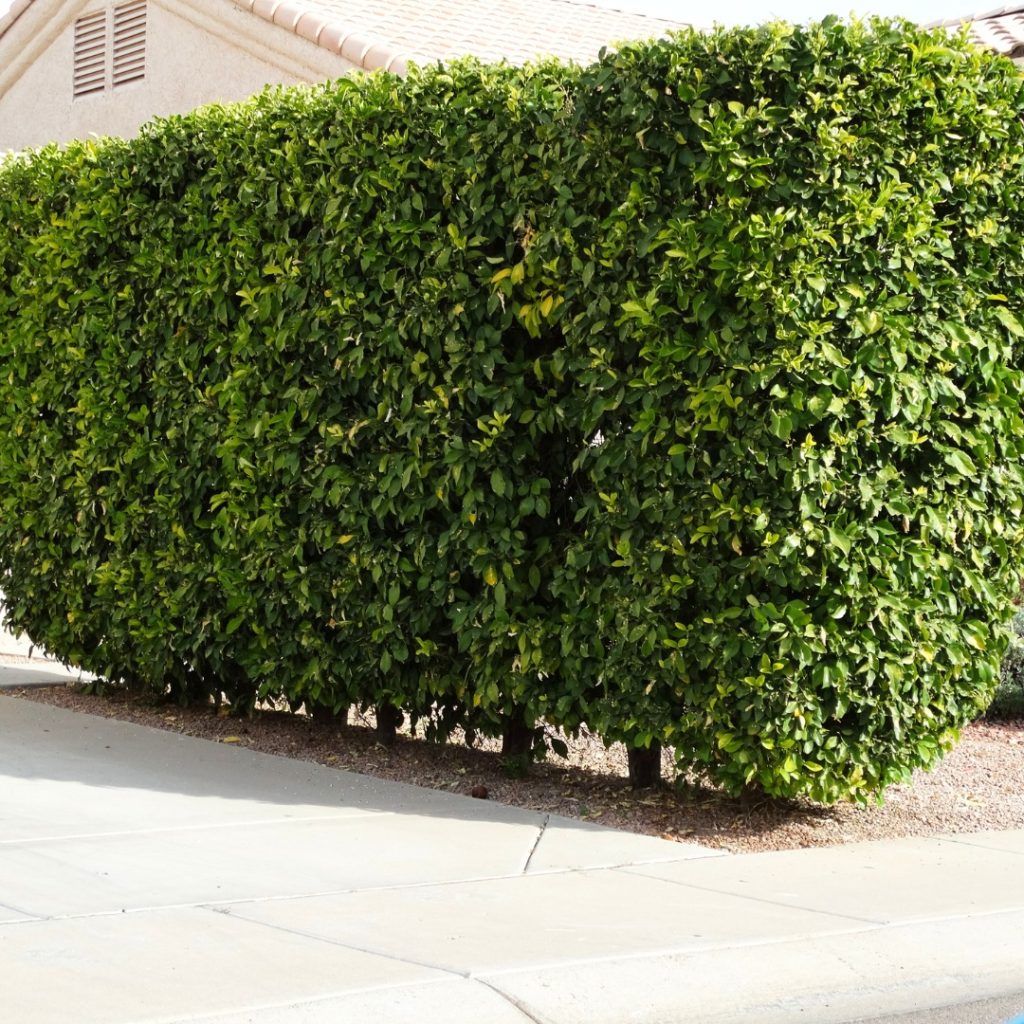 Hedge plants may take a while to grow fully, but you will have a good-looking year-round screening once they do.
So, stay patient. Alternatively, pick fast-growing plants. Popular options include boxwood, privet, arborvitae, laurel, yew, or holly.
However, select a suitable hedge plant based on climate, soil conditions, and desired height and appearance. Do you know why I love hedges? Municipal ordinances don't typically limit their height.
9. Privacy Screen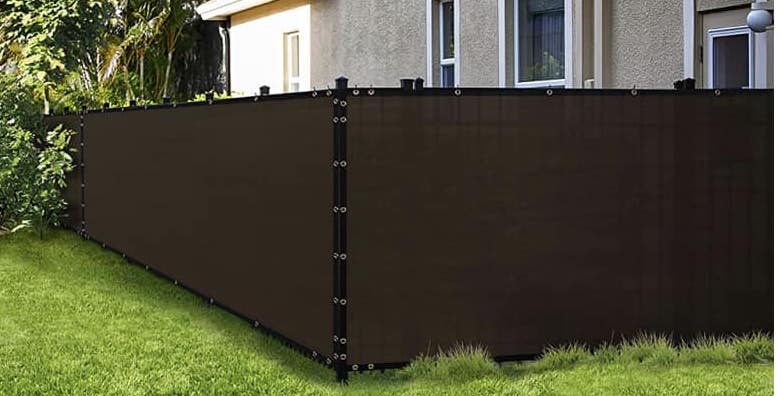 Do you want a barrier you can easily move around freely? Purchase a privacy screen, especially if you like rearranging your outdoor furniture. Privacy screens are easily available online and in retail stores; you just have to choose the option that complements your yard theme.
10. Plant Tall Ornamental Grasses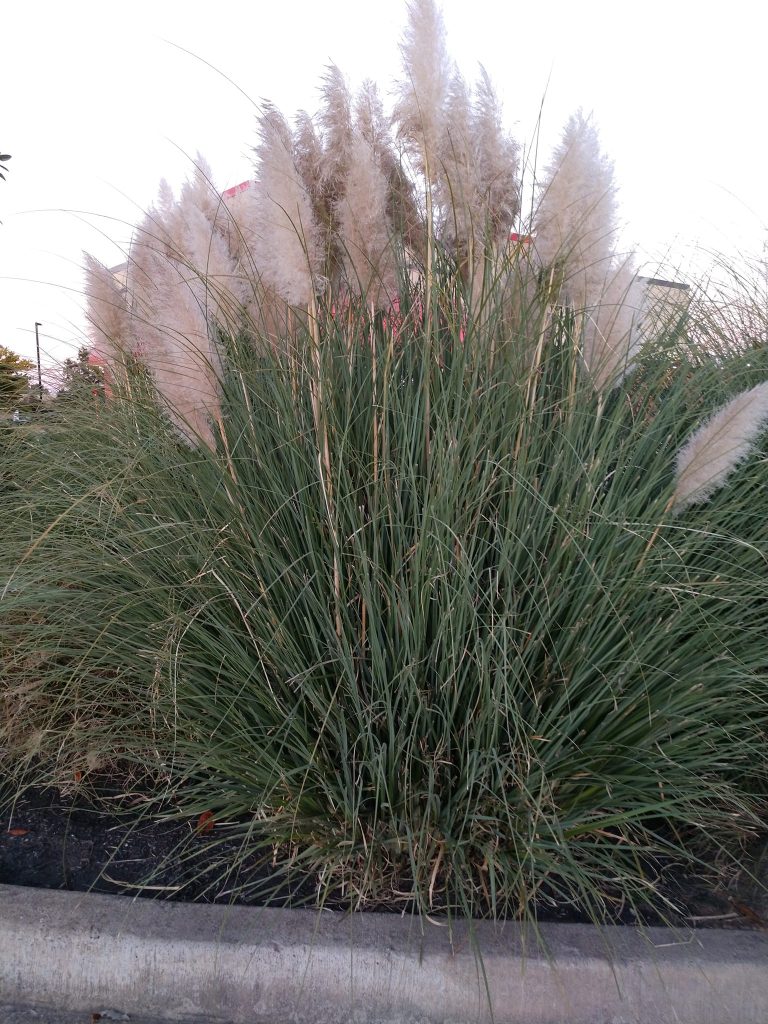 With so many ornamental grasses available, you couldn't possibly miss one that will offer privacy while also boosting your yard's aesthetics.
For instance, fountain grass is perfect for privacy even in winter, while pink hair grass is the way to go for a touch of romance and gentle shade in your yard.
Related Post: Best Tall Ornamental Grasses for Privacy
Consider pampas grass if you want grass with plumes and grows in clumps. Generally, choose tall, clumping, or upright-growing ornamental grasses that offer the desired height and density for privacy. Other options include Miscanthus, Feather reed grass, and Switchgrass.
11. Combine a Simple Metallic Fence With Colorful Vines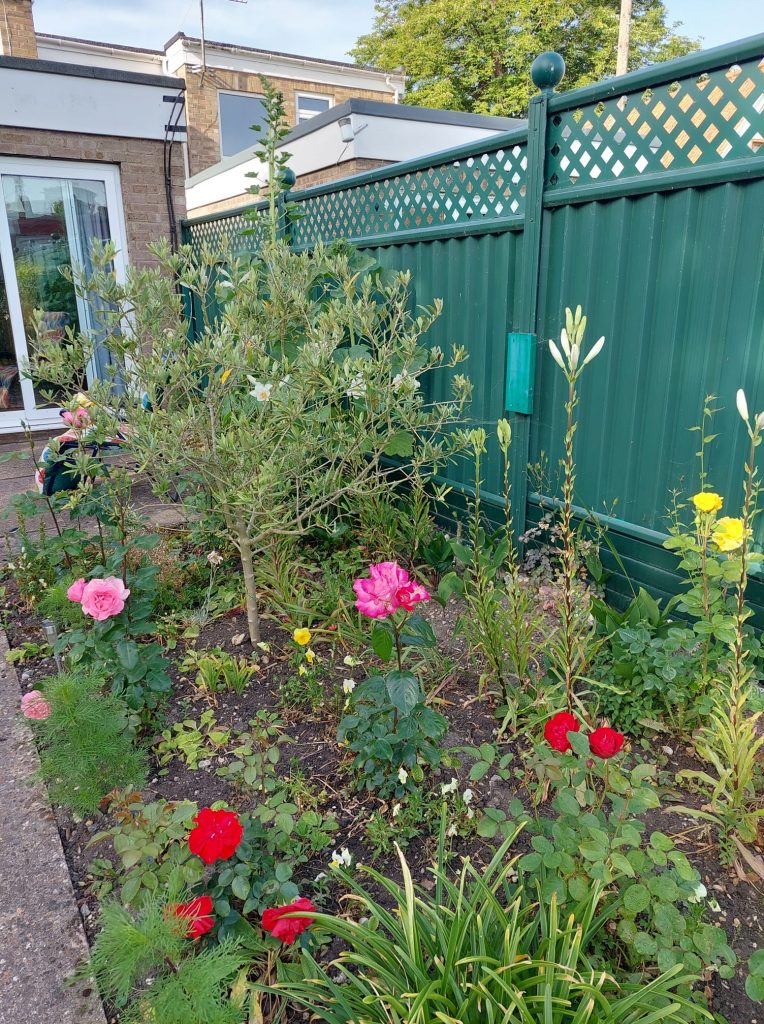 If you want your home to stand out but stay off-limits from prying eyes, I recommend erecting a simple, cheap metal fence and planting colorful vines.
The vines to consider are bougainvillea, clematis, morning glory, honeysuckle, trumpet vine, passionflower, and wisteria.
Do not choose invasive vines that can damage structures or other plants in your yard. Also, you may need to prune some vines to keep them in excellent shape and not overgrown.
12. Use Furniture Accessories
So, you cannot afford to install a new fence and do not want the engaging work of maintaining a green screen. What options do you have left? Furniture accessories come in handy.
They help enhance privacy while creating an inviting, comfortable outdoor space. Therefore, consider creating a dedicated space shielded from neighboring views by setting up a canopy or gazebo.
You can decorate them with curtains, netting, or sheer fabrics to enhance privacy and add a cozy ambiance.
Other options are outdoor room dividers made of materials such as bamboo, rattan, or fabric and durable, weather-resistant, and easy-to-clean outdoor rugs.
13. Shade Sails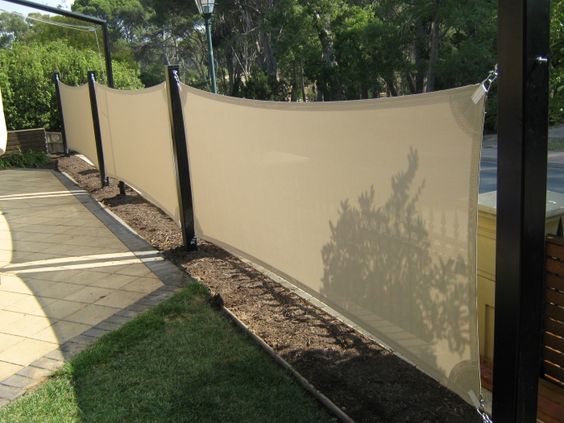 If you choose this option, you will get the privacy you crave and create shaded areas where you can spend time in your yard. Your outdoor spaces may even look like a secluded resort. Also, why not hang lights to make it charming and appealing at night?
When choosing where to hang a shade sail, consider sun exposure, prevailing winds, and the desired coverage area. Since shade sails come in different sizes, pick one that fits your measurements.
Also, ensure it complements your yard's aesthetics. In that case, pick the shape (like triangle, square, and rectangle), color, and material of the sail you desire. Furthermore, ensure it is made from UV-resistant, durable fabric for outdoor use.
14. Build A Pergola
Are you an intermediate or advanced DIY? Consider building an elegant structure that also offers privacy in the form of a pergola. However, before commencing this exciting project, decide if you want a freestanding or attached pergola and determine the size, shape, and style of your pergola.
Also, consider factors such as available space, intended use, and the architectural style of your home. For materials, they typically include wood or metal beams for the posts and crossbeams, hardware such as screws or bolts, concrete for footings (if required), and tools like a saw, drill, level, and measuring tape.
15. Repurpose Old Windows and Doors
Instead of letting old windows and doors waste away, you can use them to create a privacy screen to keep the eyes of nosy neighbors away from your home.
All you have to do is connect the windows and doors with screws, then use beams to erect your fence.
Depending on how tall you want your fence to be, lay them vertically for a tall fence or on their sides to keep it low.
16. Corrugated Metal Wall
A corrugated metal wall is a versatile, highly affordable, and durable option that provides privacy and can withstand various weather conditions. You can have this fence in the color you desire, and it's possible to add trim or edging to the top and sides of the wall to provide a finished look and enhance safety.
17. Chicken Wire With Plants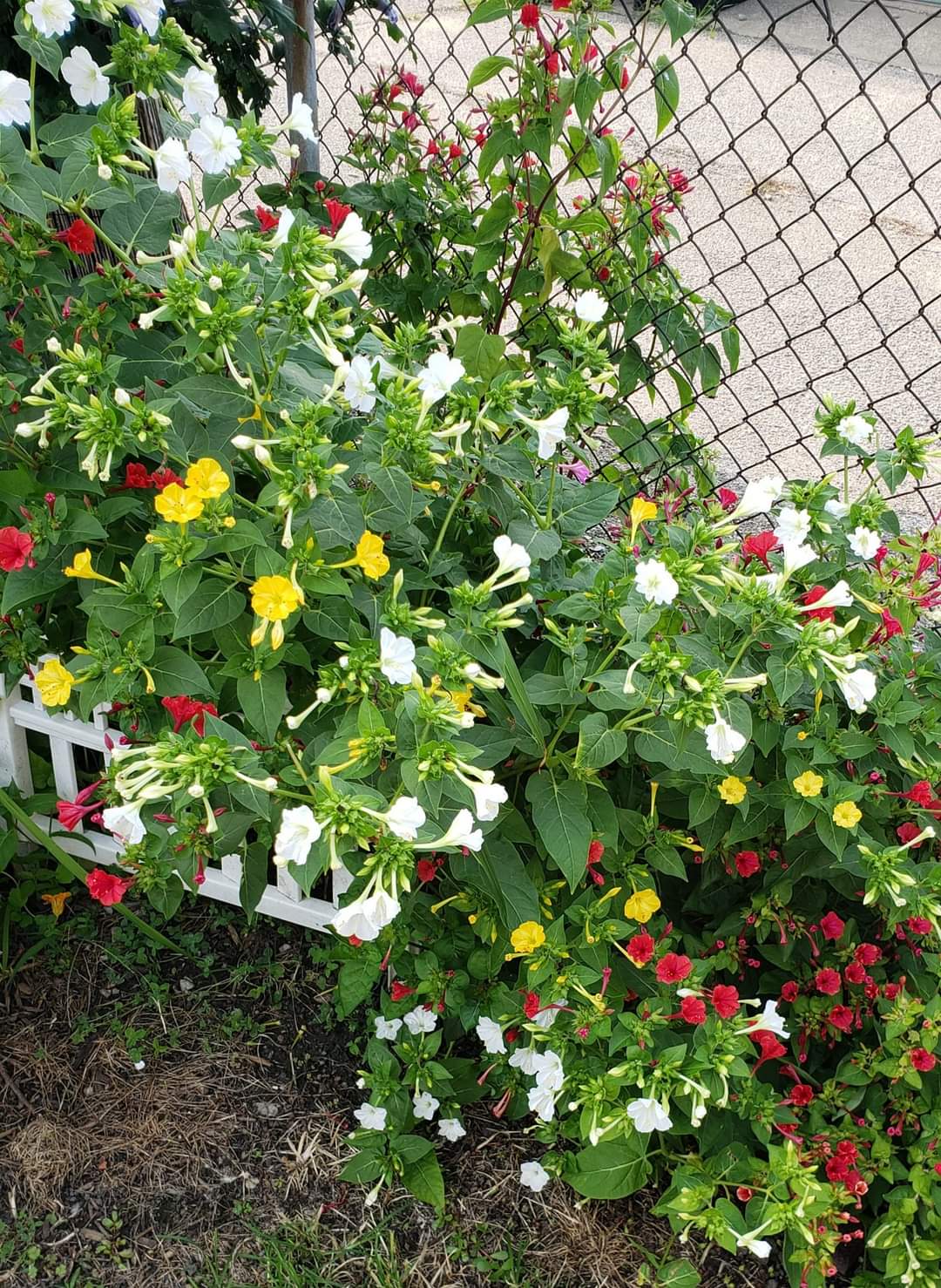 Erecting a chicken wire alone will not give you the privacy you want. However, planting climbing plants on it blocks the neighbors' view of your yard and also makes the area more visually appealing.
As your plants grow, gently guide them to climb the chicken wire by tying the stems or tendrils to the wire using soft ties or plant clips.
Summary
With the options above, blocking neighbors view of your yard will not cost you much money, and you can even make the space more gorgeous while at it. Whether you like a living privacy screen or prefer the alternative, you have many options.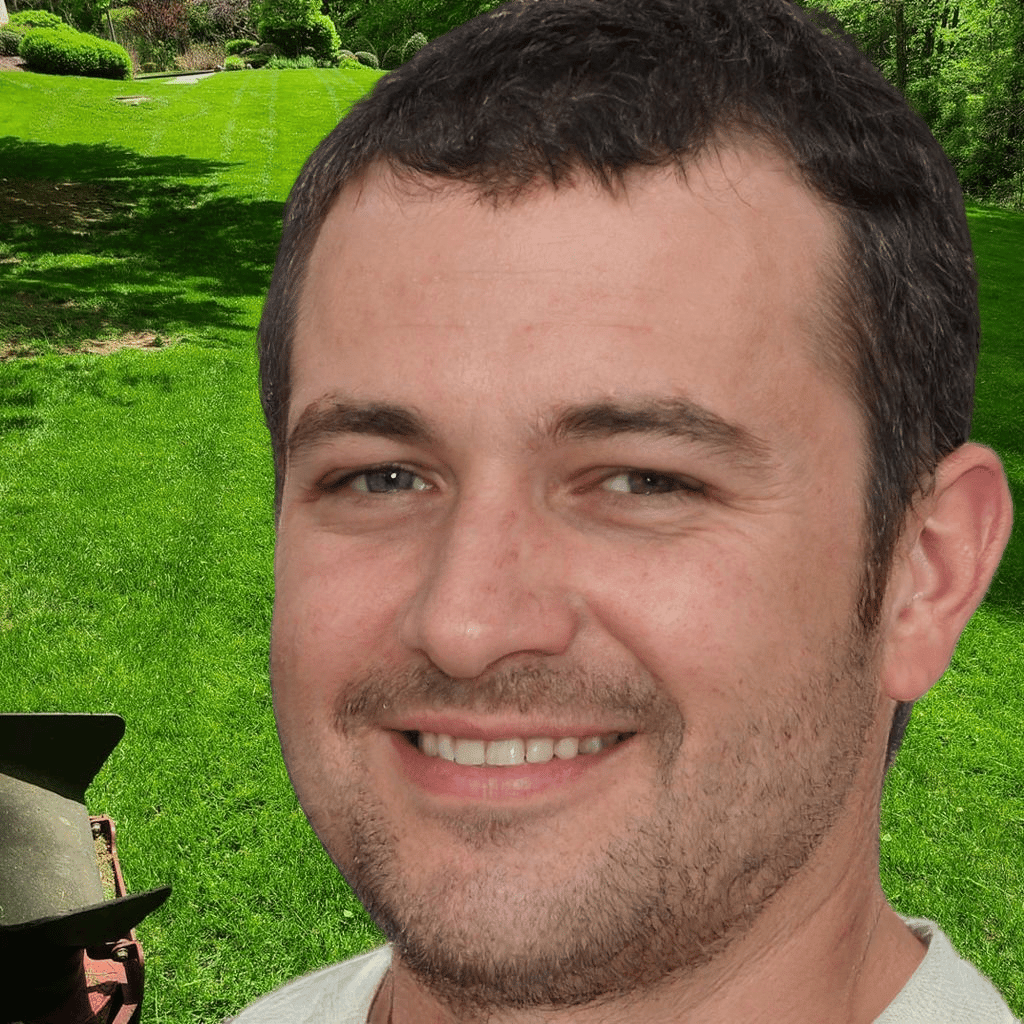 Hey there, I'm Derek Schew, a writer for Lawnholic.com, where we cover everything and anything related to lawns. As someone who's spent countless hours tending to my own lawn, I'm passionate about sharing my knowledge and helping others achieve the perfect yard. From lawn care tips to product reviews, I'm committed to providing our readers with the most accurate and up-to-date information available. So whether you're a seasoned lawn enthusiast or just getting started, I invite you to join our community and discover the joys of a lush, green lawn.