With a few lawn ornaments placed strategically to avoid cluttering the yard, you can easily add character, visual interest, and charm to your outdoor spaces. These ornaments help improve curb appeal and decorate your lawn.
The best lawn ornaments for your yard depend on your aesthetic preference, overall style, and the purpose of your outdoor space. Putting decorations on your lawn is especially an exciting project for gardening enthusiasts.
Your lawn decorations should also be well-made and durable, and consider the type, size, and color, making sure they complement your lawn décor.
What Are Lawn Ornaments?
These are decorative objects placed on lawns or gardens to add visual interest and aesthetic appeal to outdoor spaces. They can take various forms, such as statues, sculptures, birdhouses, wind chimes, fountains, flags, garden gnomes, and other figurines.
Lawn ornaments serve many purposes, including adding a personal touch to a yard, complementing a specific landscaping style or theme, providing a focal point for a garden, and attracting birds or other wildlife. They are made using various materials like stone, metal, wood, ceramic, plastic, and glass.
Moreover, you will find them in multiple styles, colors, and designs to suit different tastes and preferences. These decorations provide easy ways to decorate your outdoor spaces, transforming them into more inviting, enjoyable places.
The cost of these decorations varies, from cheap lawn ornaments to pricey ones and in between.
8 Best Lawn Ornaments
Below is a detailed look at eight unique yard ornaments for your lawn. They also make excellent gifts for your loved ones.
1. Nacome Solar Garden Outdoor Statues Turtle with Succulent and 7 LED Lights Lawn Ornament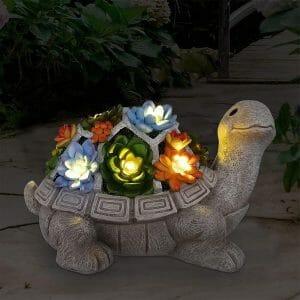 You can use this garden tortoise statue as an outdoor lawn decor for your patio, balcony, yard, or lawn. It has a cute turtle design with succulent plants on its back. The statue is made of polyresin material, which is durable and weather-resistant. Click here to see today's price on Amazon.
Clean and renewable solar energy powers this lawn ornament. It has a rechargeable 1.2V AAA 300mAH Ni-MH battery with 8 hours of run time when fully charged by sunlight. It also has seven waterproof handmade LED lights to brighten your outdoors at night.
2. Voveexy Fairy Statue Garden Angel Figurine Lawn Porch Art Decoration Ornament
This garden angel statue with a fairy design featuring a bird, flowers, and angel wings is perfect for adding character to your lawn, patio, or porch. A resin material is used to create it, making it anti-fading and weather-resistant. Click here to see today's price on Amazon.
Solar energy powers this statue, and is equipped with a rechargeable battery with up to 8 hours of run time. Its color-changing lights help you create a peaceful and romantic outdoor setting at night.
3. Natelf Garden Crane Sculptures & Statues Outdoor Large Bird Yard Art, Lawn Ornaments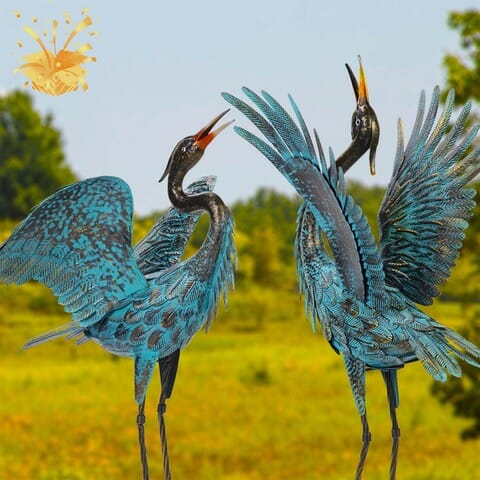 These durable, sturdy crane lawn ornaments large help add a touch of natural beauty to your outdoor decor. Use them on your garden, yard, patio, or porch to create an excellent focal point. They feature a blue heron design made with great detail. Click here to see today's price on Amazon.
The set includes two different-sized heron sculptures, one standing at 32.7 inches tall and the other at 37.4 inches tall, allowing various display options.
4. GIGALUMI Garden Squirrel Statues Solar Light Garden Figurines Outdoor Ornament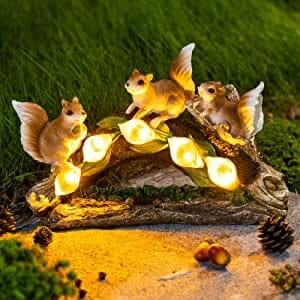 Consider these squirrel statues if you want a charming, whimsical, functional outdoor décor. The squirrels' intricate details and lifelike design makes your outdoor décor look natural. Click here to see today's price on Amazon.
This lawn ornament is powered by solar, so it will automatically charge during the day and light up at night, providing a soft and warm glow.
This statue is also waterproof, making it suitable for all weather conditions. Also, the energy-efficient and long-lasting LED lights ensure your garden or lawn stays illuminated throughout the night.
5. HOMEIMPRO Garden Solar Lights Pathway Outdoor Moon Crackle Glass Globe Stake Metal Lights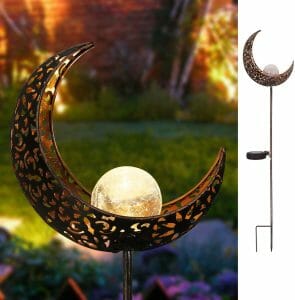 These solar-powered lights are excellent for creating beautiful and functional outdoor lighting. They boast an elegant design, durable construction, energy-efficient solar power, and waterproof construction. Click here to see today's price on Amazon.
They automatically charge in the daytime and then turn on at night. They produce warm white LED light for a soft, gentle glow that illuminates your outdoor space without being too bright or harsh.
6. GIFTME 5 Metal Mantis Garden Yard Art Decor Lawn Patio Ornaments Sculpture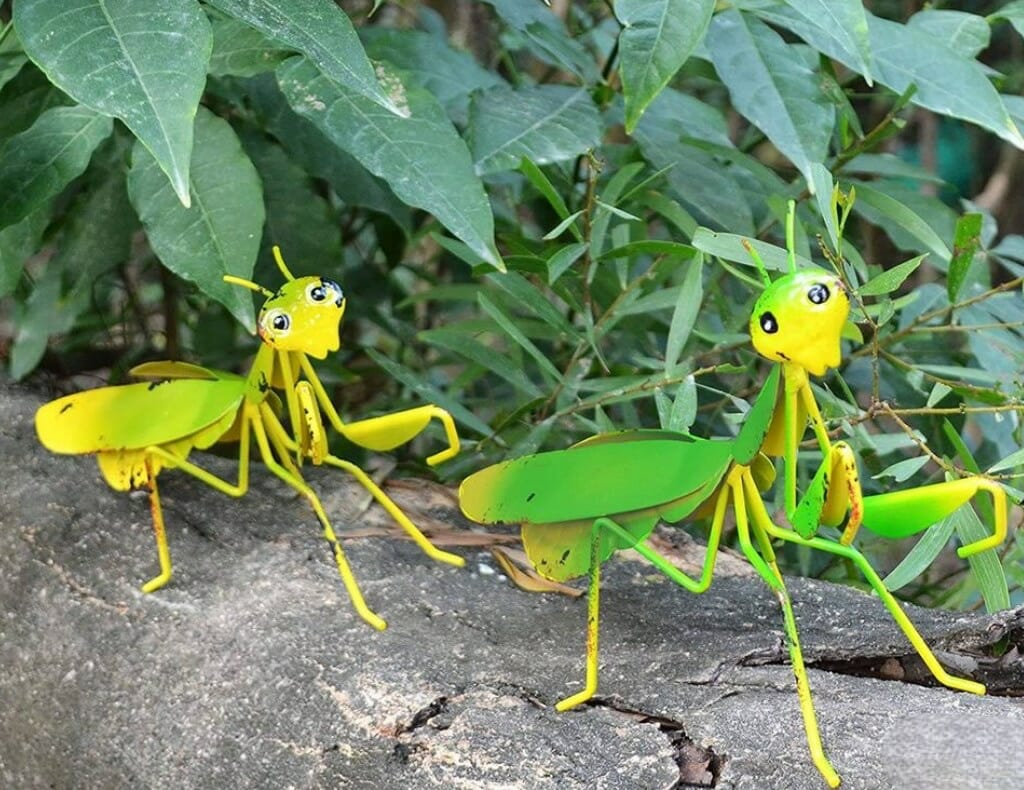 If you have outdoor tables, you can decorate them with these mantis sculptures. You can also fasten them on trees, lawns, fences, porches, and the sides of flowers. Click here to see today's price on Amazon.
The lifelike design and intricate details of the mantises make them eye-catching.
The sculptures can withstand outdoor elements for a long time because they are made of top-quality materials, thus making them durable and sturdy.
7. GIGALUMI Solar Garden Statue for Patio, Lawn, Yard Art Decoration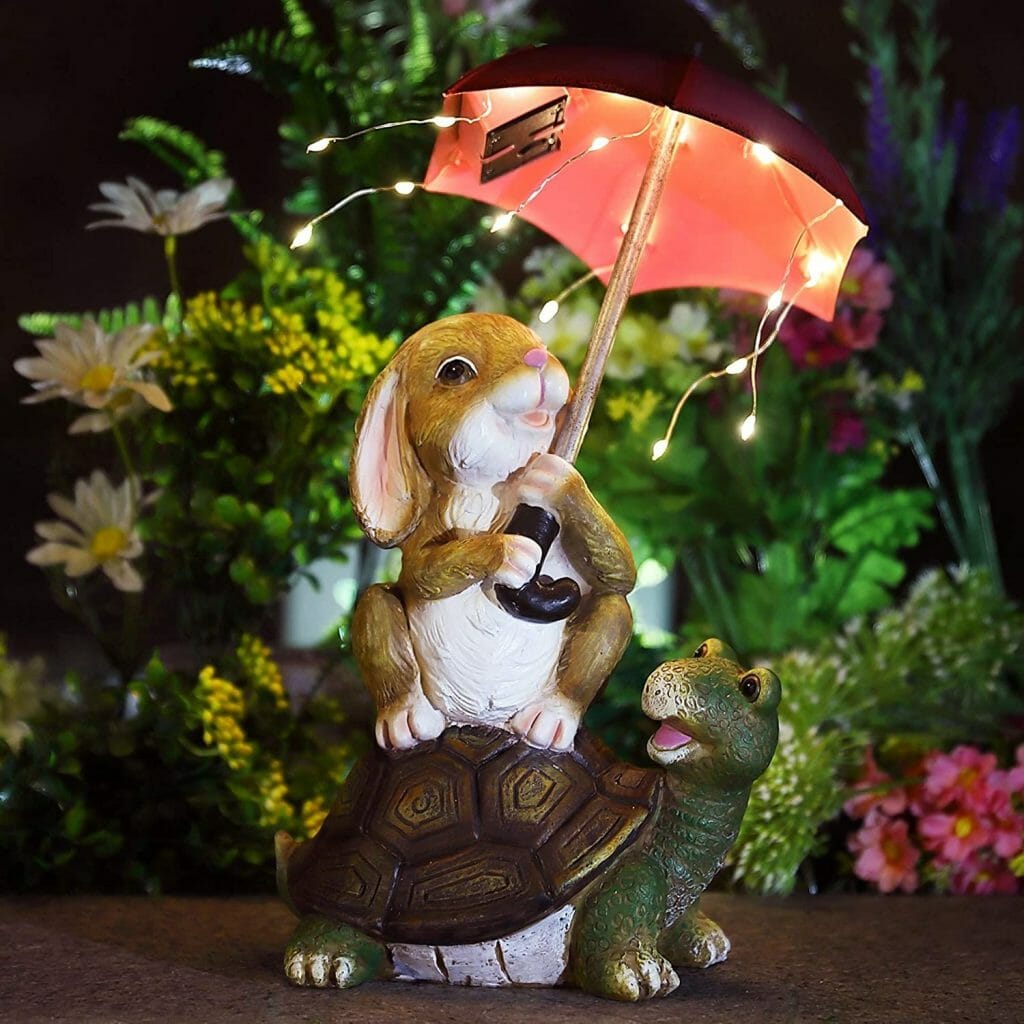 This adorable statue of a rabbit holding an umbrella while sitting on a turtle gives outdoor spaces color during the daytime and soft light at night. Click here to see today's price on Amazon.
You can place it anywhere, from gardens, lawns, trees, fences, and flowers, to pathways.It is fitted with long-lasting, energy-efficient string lights. The statue is also solar-powered, durable, and weather-resistant.
8. Glintoper Solar Garden Lights, Outdoor Metal Peacock Decorative Garden Ornaments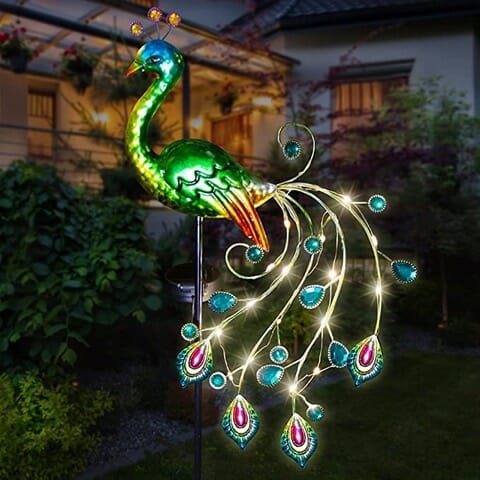 Use these metallic peacock decorative stakes to create a stunning, elegant, unique, eye-catching display on your patio, lawn, garden, or porch. Click here to see today's price on Amazon.
The peacock stands at 39 inches with 40 copper LED lights wrapped around its tail, giving off vibrant colors.
The durable, sturdy stakes are hand-painted, made using high-quality material, and finished using a UV-proof coating.
How Do You Secure Lawn Ornaments?
Apart from choosing lawn ornaments that complement your taste, style, and preference, you must also find ways to protect them from theft, damage, or loss due to harsh weather conditions.
People steal lawn decorations mostly to resell them, but others also steal them for themselves. Therefore, secure them to avoid this.
Also, they could get damaged if accidentally hit, perhaps by kids playing outdoors. Below are different ways to secure lawn ornaments.
1. Anchor The Ornaments
Use stakes, screws, or other fasteners to secure the ornament to the ground or a stable surface.
2. Use Security Cables Or Chains
Attach a sturdy cable or chain to the ornament and anchor it to a fixed object like a tree or post.
3. Install Security Cameras
Cameras can deter theft and vandalism and help identify the culprit if an incident occurs.
4. Position The Ornaments Strategically
Make it hard for people to steal your ornaments by placing them in areas you can effortlessly see from inside the house. Also, position pricier decorations closer to the home.
5. Keep Them Inside During Harsh Weather Conditions
When severe weather conditions like hail or strong winds are expected, consider bringing the ornaments inside to protect them.
How Do I Keep My Lawn Ornaments From Fading?
Lawn ornaments can fade for several reasons, including exposure to sunlight, moisture, and other environmental factors. However, the primary reason for fading is exposure to ultraviolet (UV) rays.
The UV rays break down the pigments in the materials used to make the ornaments over time, causing them to fade or lose color. Preventing fading helps prolong your ornaments' lifespan and keeps them looking good.
Learn how to prevent lawn ornament fading below based on the material used to make them.
Metal Lawn Ornaments
Apply a clear paint or rust inhibitor coat to prevent the metal from oxidizing and fading. Furthermore, keeping your metallic lawn ornaments from direct sunlight prevents fading.
Plastic Lawn Ornaments
Exposing plastic ornaments to direct sunlight makes them more vulnerable to fading. Luckily, you can avoid this by applying a UV-resistant spray or paint on them. You can also keep them in areas that don't get direct sunlight when unused.
Stone Lawn Ornaments
Protect stone ornaments from water damage and exposure to sunlight by applying sealant or wax. Keeping them in areas covered with shade also helps.
Wooden Lawn Ornaments
A sealant or a clear coat of varnish will protect your wooden lawn ornaments from fading and damage from moisture and sunlight.
Note
Leaving dirt and grime, among other debris, makes your lawn decorations susceptible to discoloration and fading, so clean them regularly. Doing so not only protects them from damage but also ensures they always look their best. Moreover, it would be best to store them indoors in winter to protect them from harsh weather conditions.
Summary
Make your home stand out in your neighborhood by choosing and setting up unique lawn ornaments. Your decorations' theme should convey the style you are going for and help add visual appeal to your outdoor spaces.
Consider buying bigger, heavier lawn decorations because they are less vulnerable to theft.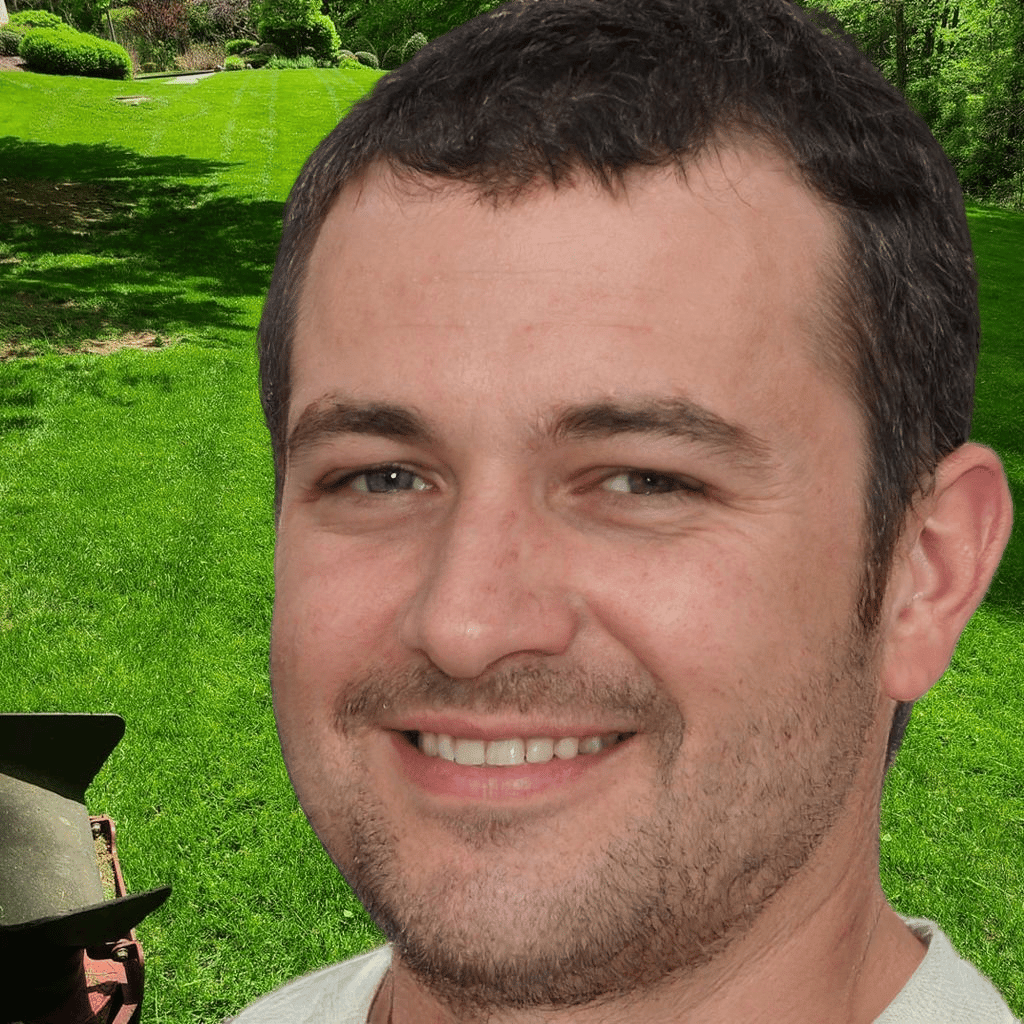 Hey there, I'm Derek Schew, a writer for Lawnholic.com, where we cover everything and anything related to lawns. As someone who's spent countless hours tending to my own lawn, I'm passionate about sharing my knowledge and helping others achieve the perfect yard. From lawn care tips to product reviews, I'm committed to providing our readers with the most accurate and up-to-date information available. So whether you're a seasoned lawn enthusiast or just getting started, I invite you to join our community and discover the joys of a lush, green lawn.