With a few modifications, your front yard can look inviting and charming. One way to transform your front yard and enhance its beauty is by planting trees, as they not only provide shade and improve air quality but also add curb appeal to your property.
However, before planting any trees in your front yard, ask yourself, what are the best trees for my front yard? Answering this question is important because some trees have invasive roots, and they can negatively affect your property and surrounding environment.
Luckily, there are many small trees that have non-invasive roots that are perfect for front yards. Below are notable examples.
12 Small Trees With Non-Invasive Roots For Front Yard
1. Japanese Maple (Acer palmatum)
The intricately shaped leaves of the Japanese Maple that come in a variety of colors and forms transform front yards into beautiful spaces. This plant stands out for its brilliant fall foliage that varies in color, like red, orange, yellow, or purple, based on the plant variety.
So, depending on the Japanese Maple you plant, you can create a breathtaking autumn display.
Apart from its stunning, captivating foliage, you will love this plant due to its compact size. Japanese Maples have shallow, non-invasive roots typically reaching a height of 6 to 25 feet.
Hardiness zone: 5-8.
Related Posts:
2. Dogwood (Cornus florida)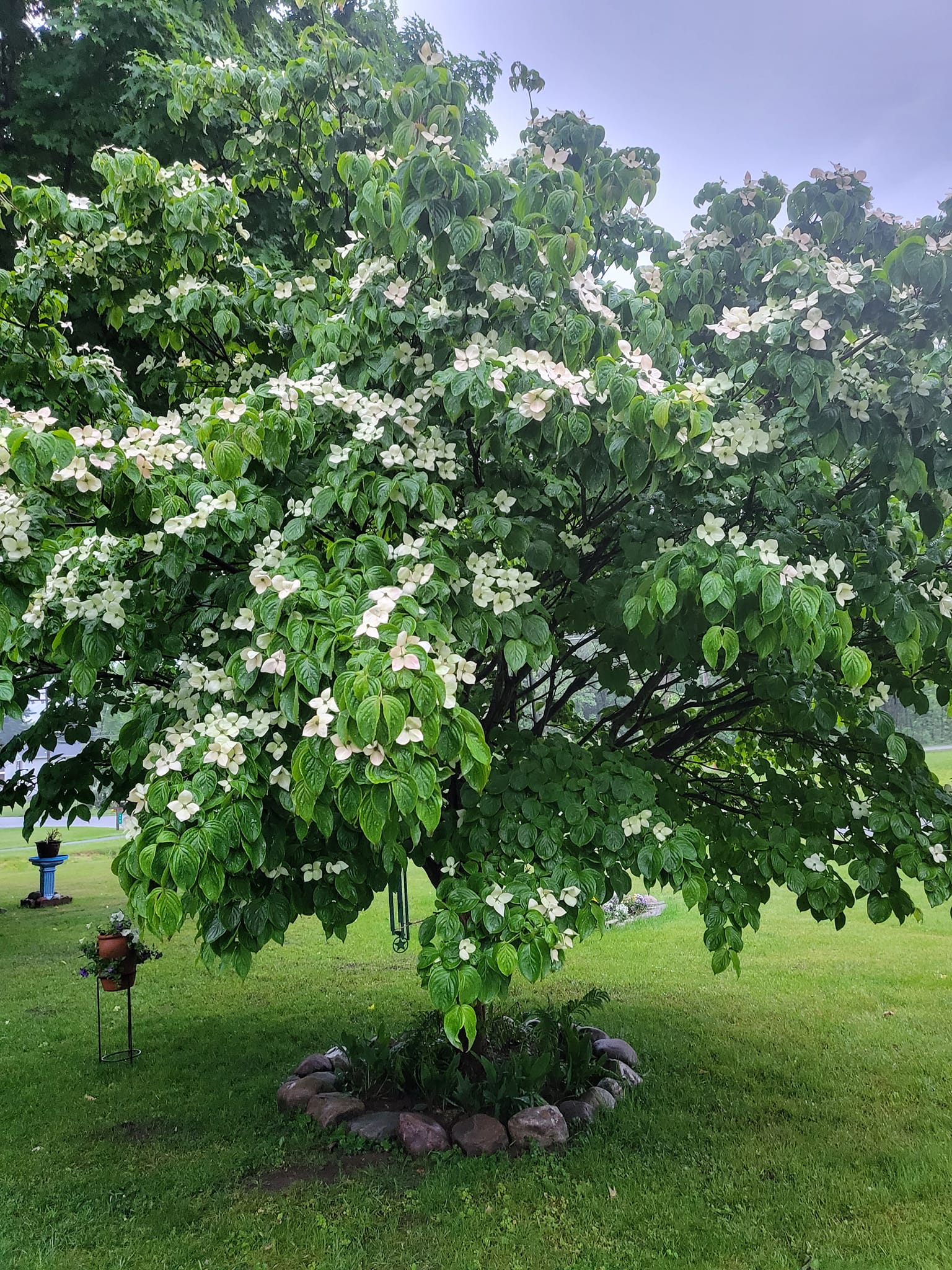 Are you looking for a plant that looks good throughout the year and doesn't have invasive roots? The Dogwood is a great choice. This plant brings timeless beauty and elegance to front yards thanks to its breathtaking blossoms in spring, attractive foliage in summer, and vibrant fall color.
Its simple, ovate leaves with pronounced veins provide an attractive backdrop to the summer and fall landscape as they turn vibrant shades of red, purple, or burgundy in autumn.
However, this plant's real show-stopper is its flowers. The blossoms are characterized by four large bracts (modified leaves) that come in shades of white, pink, or red, surrounding a cluster of tiny, inconspicuous flowers in the center.
Hardiness zone: 5-9.
3. Flowering Cherry (Prunus serrulata)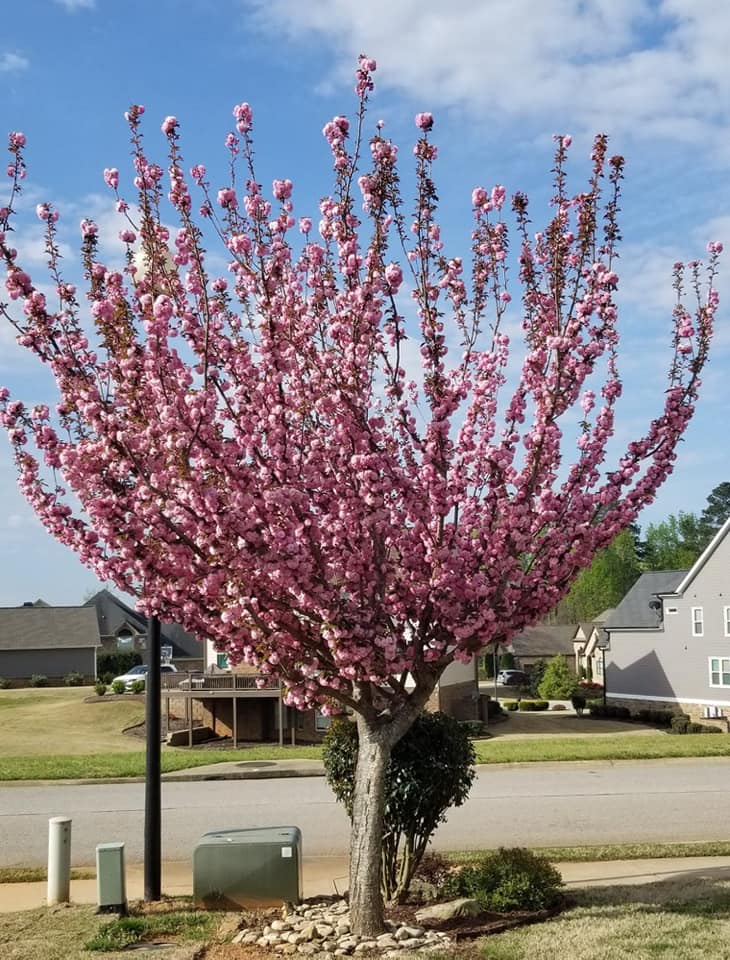 The beauty of this plant ranges from its leaves and flowers to fruits. However, its main attraction is its stunning display of springtime blossoms.
The Flowering Cherry will grace your front yard with its exquisite, showy blooms that typically burst in early spring.
These blossoms are often pink or white and are in clusters, thus forming a sensational visual spectacle. The delicate petals also give off a lovely fragrance.
As for the leaves, they will add a splash of color to your front yard since they turn vibrant shades of orange, red, or bronze in the fall.
You will also appreciate its graceful, rounded canopy that spreads outward, creating a natural umbrella-like shape. Some Flowering Cherries reach 30 feet tall, but some stay relatively small.
Hardiness zone: 5-8.
4. Eastern Redbud (Cercis canadensis)
There's plenty you can do with Eastern Redbud in your front yard. You can incorporate it into your understory planting, foundation planting, mixed garden bed, or use it as your front yard's centerpiece.
The Eastern Redbud doesn't slack in appearance. For instance, It produces small, pea-like flowers in early spring in various pink shades, from deep magenta to light pink.
The sheer volume of blooms creates a breathtaking spectacle that attracts pollinators and delights passersby.
Its leaves are also unique and charming, as they are heart-shaped and can vary in color from deep green to bluish-green. Its height is between 20-30 feet.
Hardiness zone: 4-9.
5. American Hornbeam (Carpinus caroliniana)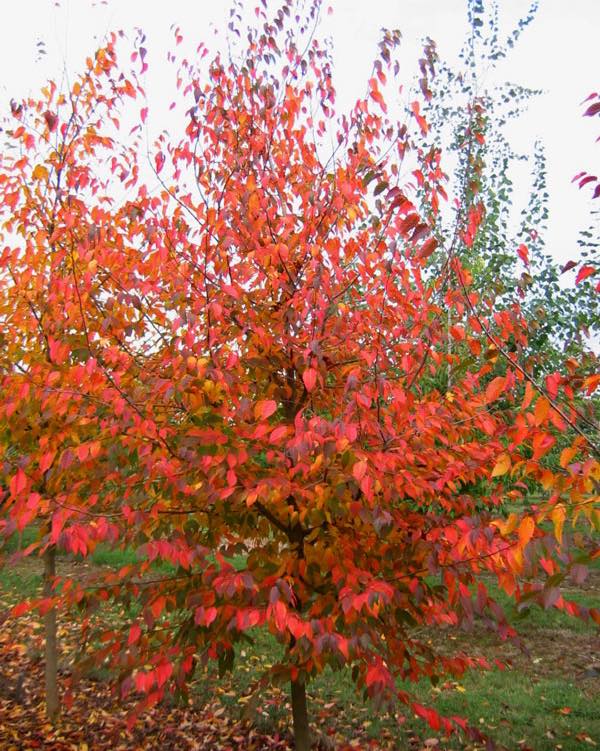 Popular ornamental trees often overshadow this elegant plant, but don't let that make you miss out on a beautiful plant that can bring a touch of elegance and charm to your front yard. Distinctive, serrated, and prominently veined leaves give the American Hornbeam its unique appearance.
These oval to oblong leaves transition through various shades of green in the spring and summer. When fall comes, these leaves will color your front yard with brilliant shades of orange, red, and purple.
Another striking feature of this plant is its smooth, muscular, and sinewy bark, which resembles muscles or rippled muscles that create visual interest year-round. The American Hornbeam grows up to 20-35 feet tall.
Hardiness zone: 3-9.
6. Crabapple (Malus spp.)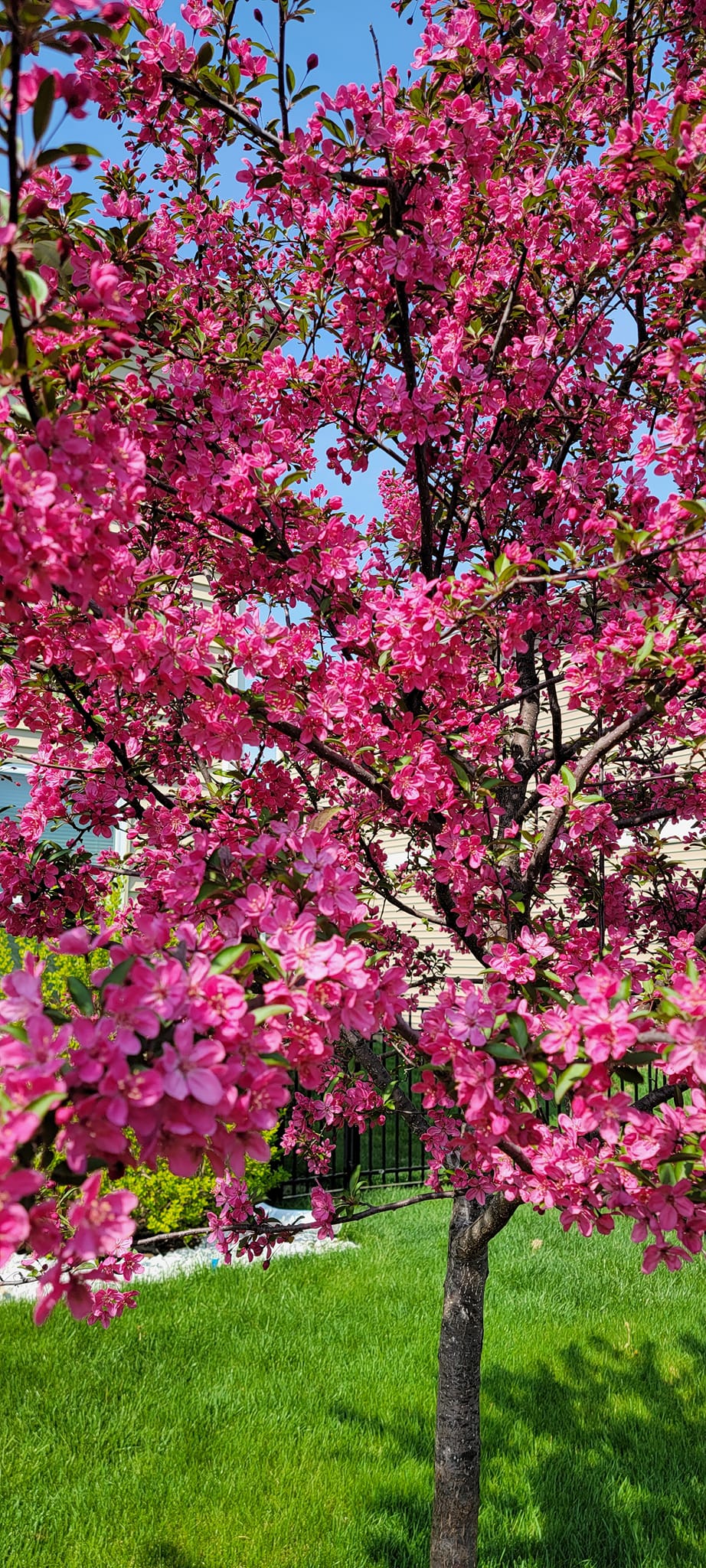 Your home will no longer look boring in spring if you plant the Crabapple in your front yard. Its abundant and showy blossoms pop out in the spring.
These blossoms can be shades of pink, white, or red, varying in size and shape depending on the cultivar.
While typically green, the leaves change to vibrant shades of yellow, orange, or red in the fall, providing seasonal interest.
Also, the Crabapple produces small, red, orange, or yellow fruits in summer and fall that you can use to cook or to make jellies and jams.
Some Crabapple trees stay small (around 6-10 feet) while others grow to 25 feet or more, making them suitable for various front yard spaces.
Hardiness zone: 3-7.
7. Serviceberry (Amelanchier spp.)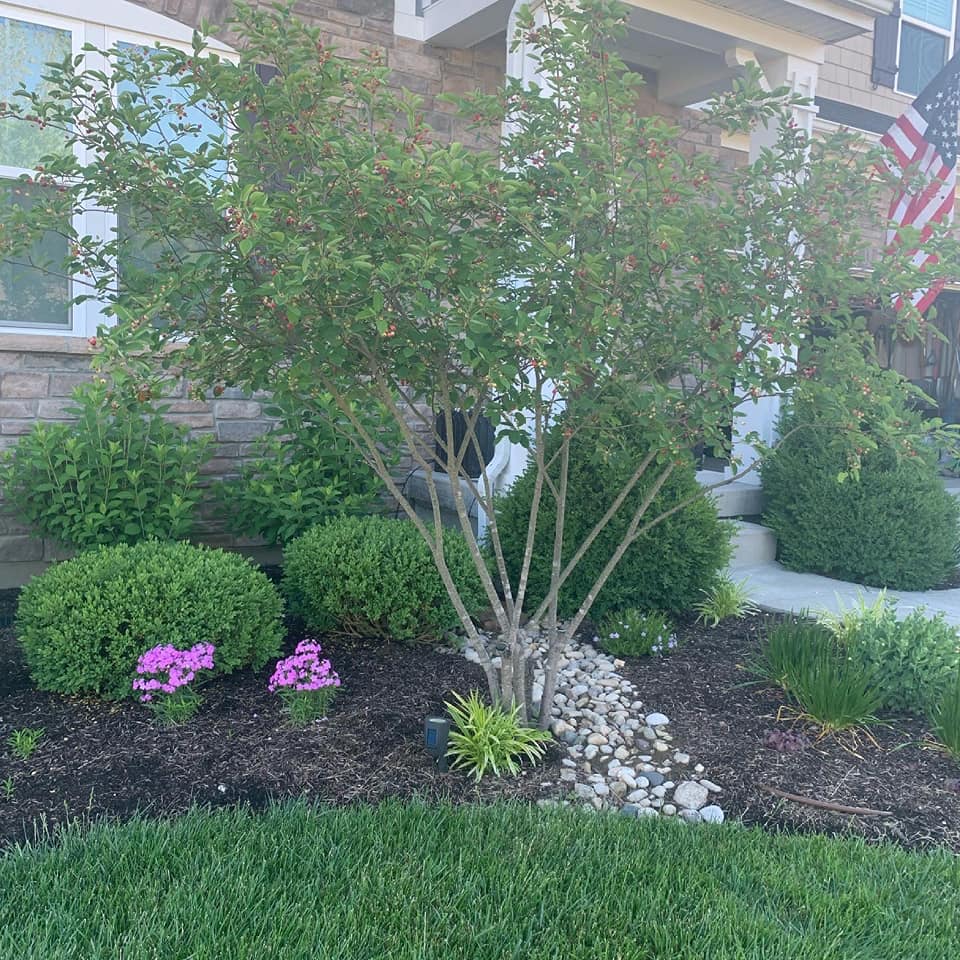 Consider this popular landscaping plant for your front yard because it has delicate blossoms, delicious fruit, vibrant fall foliage, and attractive bark.
Before Serviceberry's leaves fully emerge, produce white or pale pink flowers in the spring.
The profusion of these flowers that appear in clusters and have a subtle, sweet fragrance creates a charming display that attracts pollinators and makes your front yard elegant.
Spring and summer's green leaves often turn to striking purple, orange, or red in the fall.
Regarding size, some Serviceberries remain as 3 to 15 feet shrubs, while others grow into 15 to 25 feet trees.
Hardiness zone: 2-8.
8. Vitex (Vitex agnus-castus)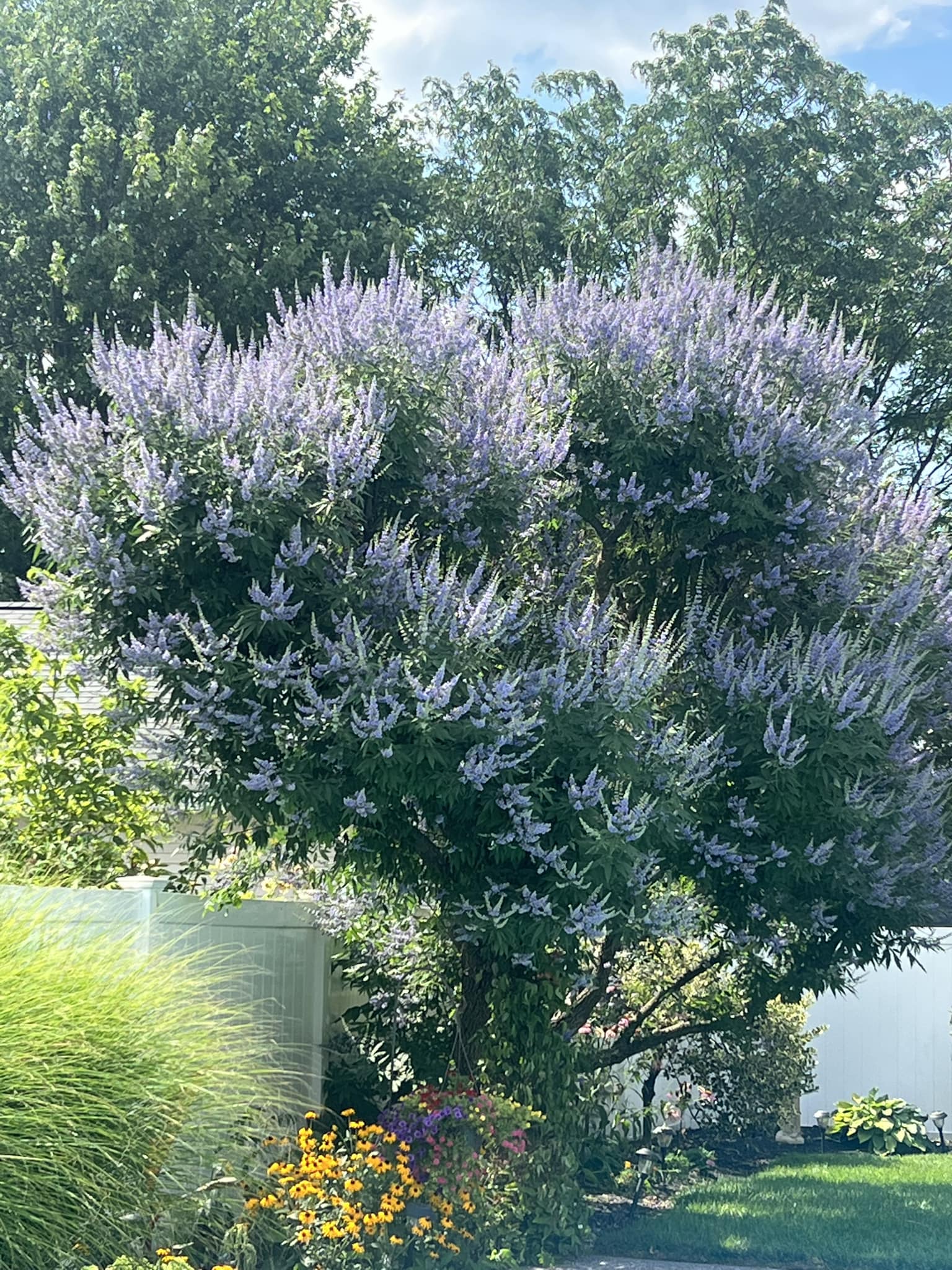 Add a delightful fragrance reminiscent of lavender to your front yard with Vitex AKA Chaste tree, an elegant small tree native to the Mediterranean region. Its stunning, fragrant blossoms that typically appear in the summer are its most captivating feature.
They are usually shades of blue, lavender, or lilac, although some cultivars produce pink or white flowers.
This plant suits different front yards because it varies in height, ranging from 3 to 15 feet. The branching structure of the Vitex creates a natural and pleasing silhouette, and the gray-green leaves, with a silvery underside, add to the shrub's overall appeal.
Hardiness zone: 6-9.
9. Japanese Stewartia (Stewartia pseudocamellia)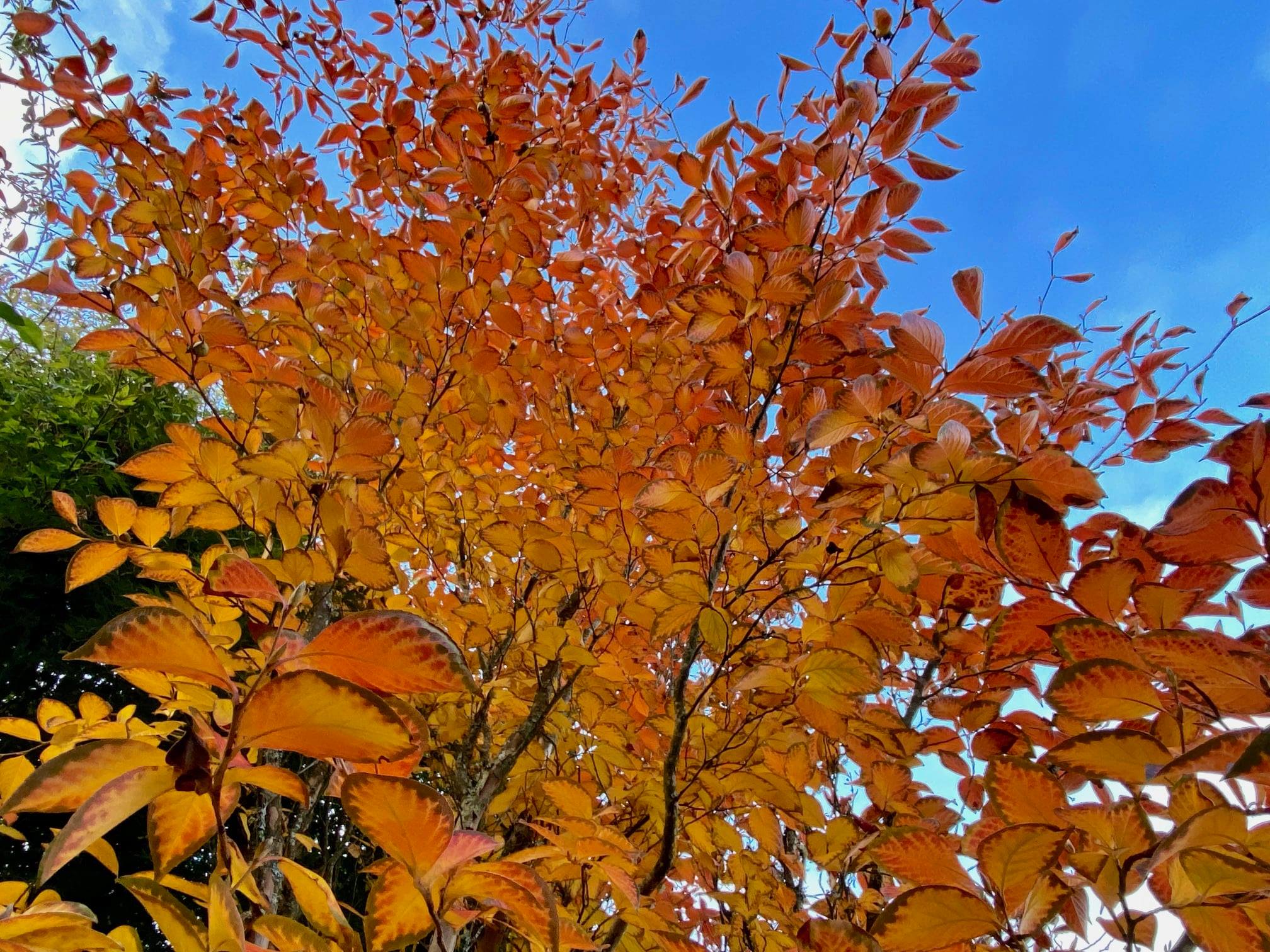 Like the American Hornbeam, the Japanese Stewartia is often underappreciated, but it can transform your front yard into a tranquil and captivating oasis.
Its pristine white, camellia-like flowers with vibrant orange centers and a delicate, papery texture add an ethereal beauty to your front yard.
The blossoms get an attractive backdrop thanks to the plant's dark green, glossy, and oval-shaped leaves. Later on, these leaves turn brilliant shades of orange, red, and purple in the fall, offering a spectacular display of autumn color.
Also, the overall aesthetics of the Japanese Stewartia is enhanced by its peeling, mottled bark that reveals shades of gray, brown, and reddish-brown.
Hardiness zone: 5-8.
10. Star Magnolia (Magnolia stellata)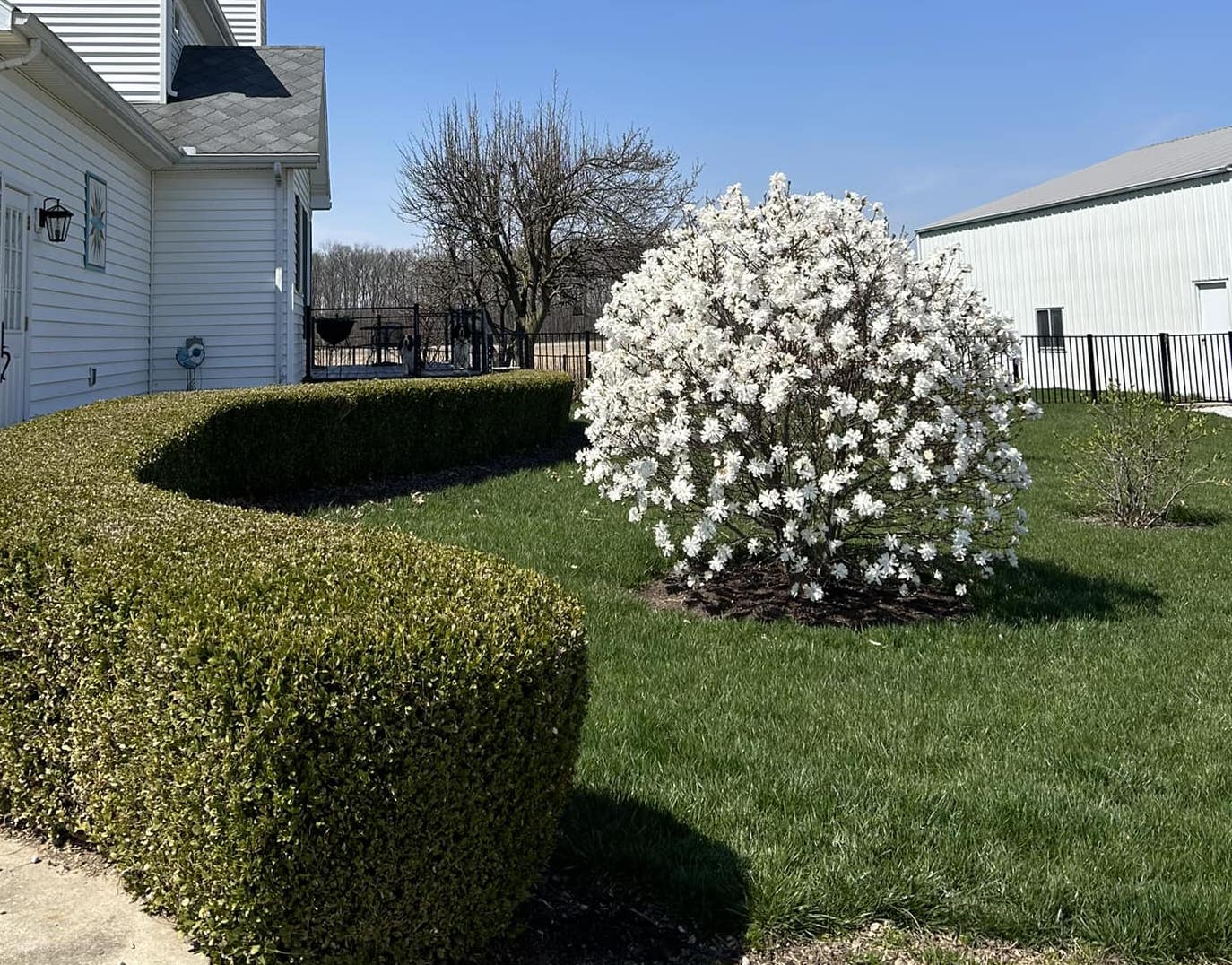 This small deciduous tree or large shrub makes an excellent tree for your front yard due to its delicate, star-shaped blossoms, early spring flowering, and graceful form. Before the leaves emerge, its profusion of star-shaped, fragrant blooms appear in late winter to early spring.
The white or pale pink flowers add a stunning display of elegance and beauty to your front yard. Star Magnolia's branches spread gracefully, creating an appealing and symmetrical silhouette.
Sweet Magnolias usually reach 15 to 20 feet high, with an identical spread.
Hardiness zone: 4-9.
11. Orchid tree (Bauhinia variegata)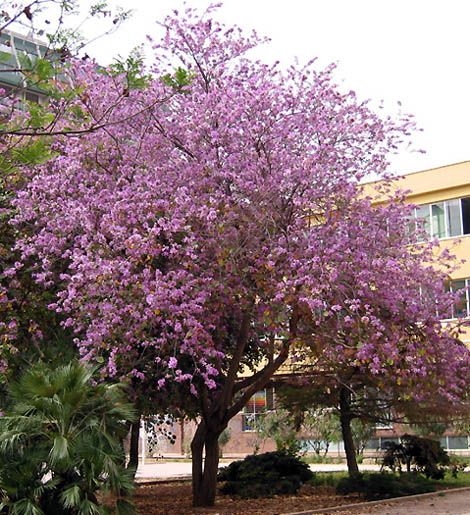 For an unparalleled level of elegance and exotic beauty in your front yard, plant an Orchid tree. Its prolific display of large, showy, orchid-like flowers that typically appear in spring and continue through summer are undoubtedly captivating.
These pink, purple, or white flowers have a unique shape that resembles butterfly wings, hence this plant's exotic and elegant appearance. The glossy green bi-lobed leaves give the vibrant blossoms an attractive backdrop.
Orchid Trees grow up to 15 to 30 feet high, with an identical spread.
Hardiness zone: 9-11.
12. Dwarf Korean Lilac (Syringa meyeri 'Palibin')
Elevate your front yard's aesthetics with Dwarf Korean Lilac's fragrant blossoms and lovely form. Go for it if you are looking for a low-maintenance and space-saving ornamental plant.
Also, consider it if you have limited space in your front yard because, as the name suggests, Dwarf Korean Lilacs are compact and small in stature, reaching 4 to 6 feet tall.
Dwarf Korean Lilac's fragrant flowers are typically lavender to light purple, appearing in late spring to early summer. On the other hand, the small, dark green leaves may turn a subtle shade of yellow before dropping in the fall.
Your front yard will be graced with the timeless allure of these remarkable shrubs whether you plant them as a foundation shrub or in a mixed garden bed.
Hardiness zone: 3-7.
Final Remarks
Small trees with non-invasive roots make your front yard gorgeous and inviting while helping you avoid problems associated with invasive roots. So, enhance your curb appeal with the plants on the list above.
Whether you prefer the Japanese Maple's stunning blooms or the Orchid tree's exotic beauty, numerous options are available, so pick based on your taste.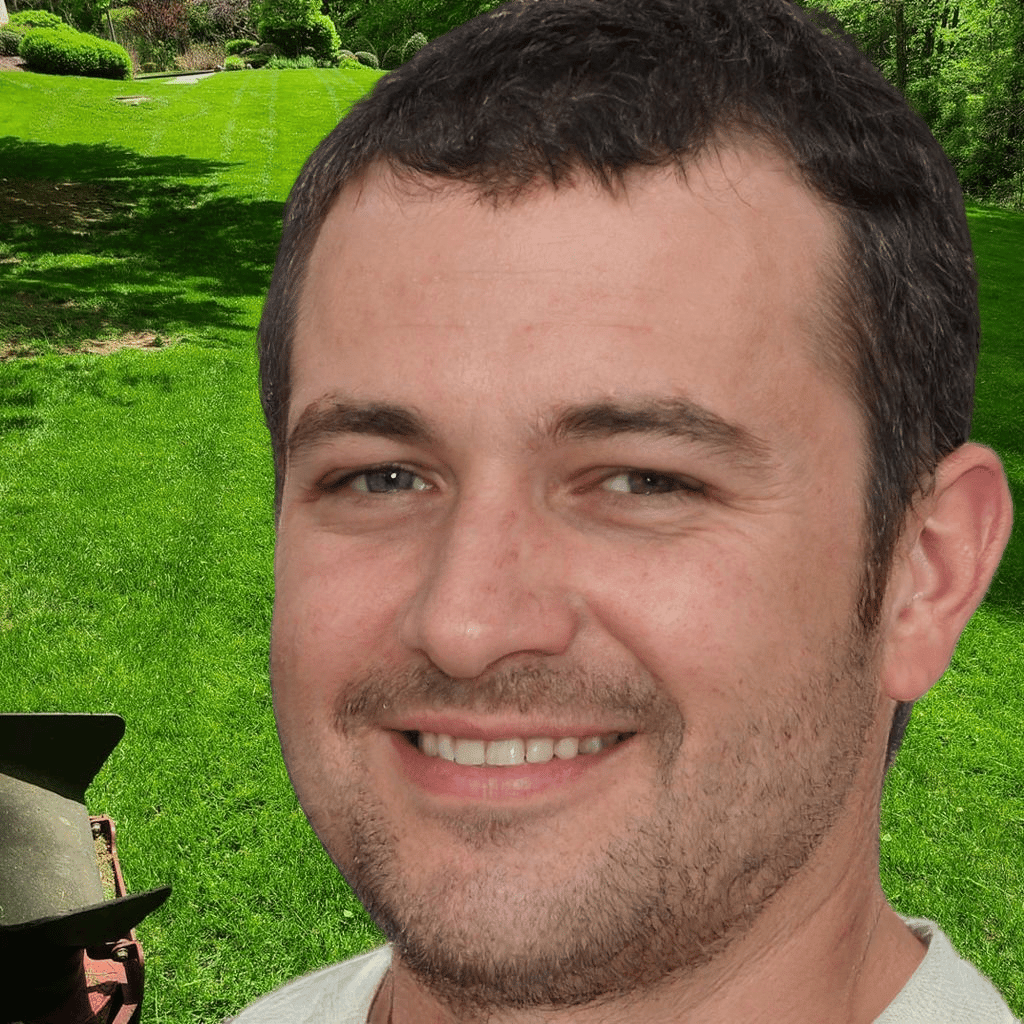 Hey there, I'm Derek Schew, a writer for Lawnholic.com, where we cover everything and anything related to lawns. As someone who's spent countless hours tending to my own lawn, I'm passionate about sharing my knowledge and helping others achieve the perfect yard. From lawn care tips to product reviews, I'm committed to providing our readers with the most accurate and up-to-date information available. So whether you're a seasoned lawn enthusiast or just getting started, I invite you to join our community and discover the joys of a lush, green lawn.