Before rendering your lawn establishment a success, take time to edge it to your liking, increasing its aesthetics.
A massive chunk of the work that goes into developing a yard involves growing and maintaining the ground cover, whether it's traditional grass, alternative cover, or a combination of both.
However, many people often forget or overlook lawn edging, but it's just as important and doesn't have to cost a lot of money.
There are numerous choices for cheap lawn edging ideas you can adopt.
Try the ideas below if you want to edge your lawn without spending too much money.
18 Cheap Lawn Edging Ideas
Below is a round-up of the beautiful, cost-effective lawn edging ideas worth adopting in your property.
1. Rock Lawn Edging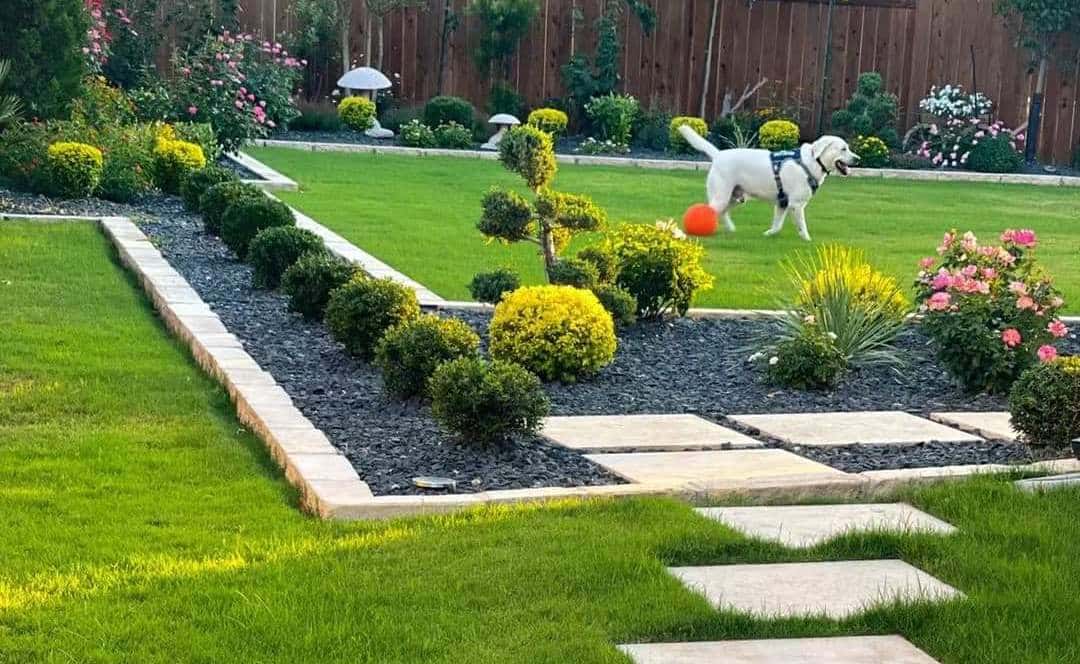 You can create beautiful lawn edging using rocks because they come in multiple colors, shapes, and sizes, making them versatile.
You can clearly define different portions of your yard using stones. You can use small or large rocks or even mix them.
Additionally, play with different colored rocks to create a captivating visual appeal. Larger rocks suit bigger lawns or uneven grounds better.
Create unique patterns using pebbles of different sizes and colors, placing them between boards of timber or laying them side-by-side. Pebbles are highly affordable.
2. Flexible Plastic Lawn Edging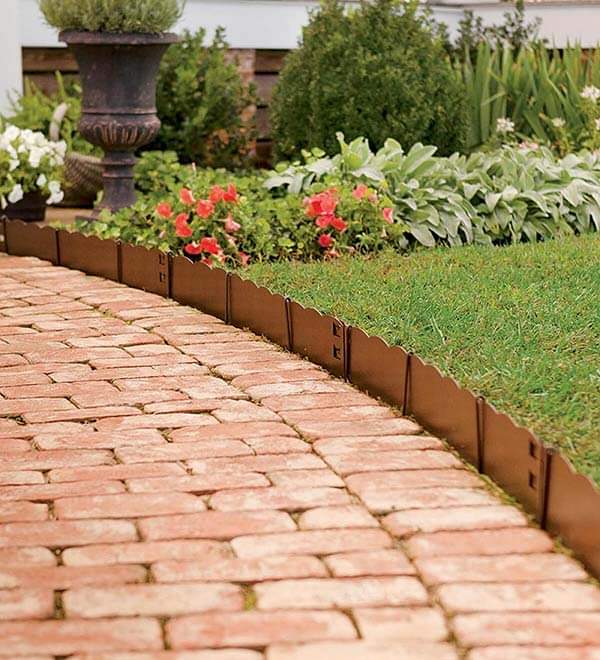 You can effortlessly shape and curve this cost-effective lawn edging material to develop any desired design.
Plastic edges are affordable but less durable than metal, concrete, and brick.
3. Pavestone Edging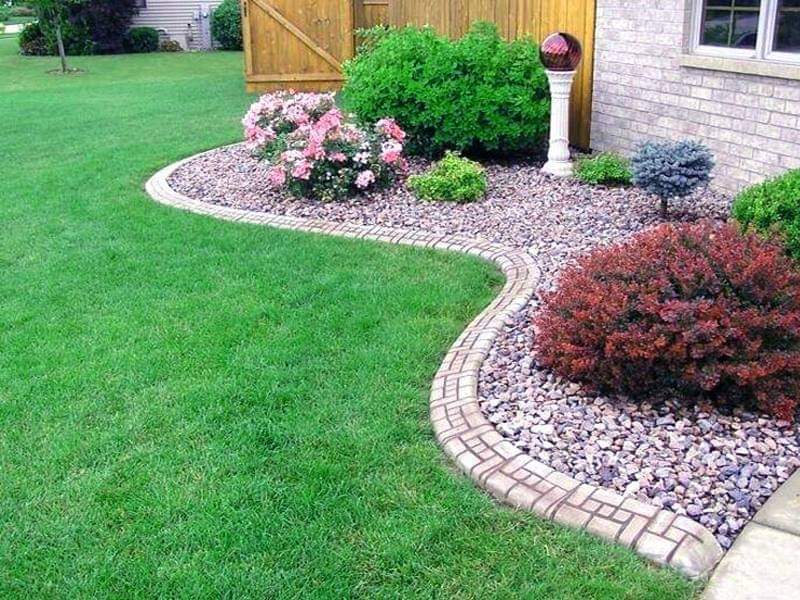 This kind of edging is suitable for outdoor living projects and heavy-duty hardscaping since they are durable, robust, and low maintenance.
You can use pavestone to develop patterns on your lawn edges, walkways, driveways, and patios. However, note that the installation process is time-consuming.
4. Brick Lawn Edging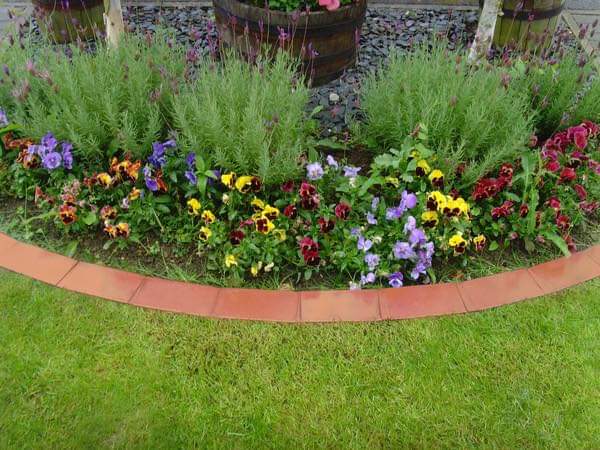 This classic lawn edge material is relatively inexpensive, widely available, needs minimal maintenance, and will last forever.
Stoneware and masonry come in different finishes and colors, so you can create remarkable patterns from them.
Lay bricks standing upright or the wide sides facing down but ensure they are level to create an appealing look. Lay the bricks yourself or hire a landscaper.
5. River Rock Edging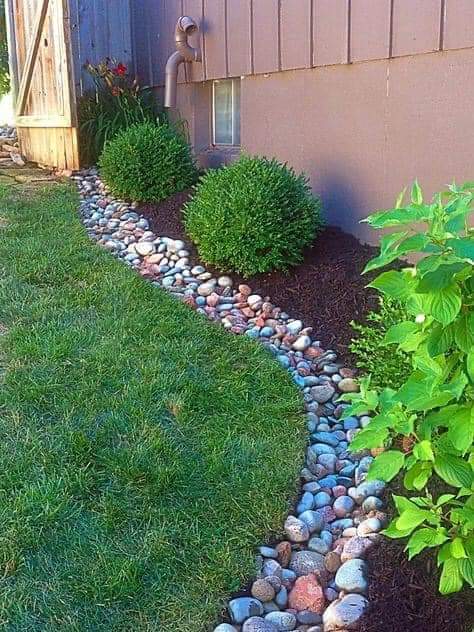 These river rocks are excellent for creating a natural look on your lawn edges. Moving water in rivers, streams, oceans and other water bodies gives river rocks their smooth texture.
They are wonderfully unique because they are available in diverse shapes and colors.
Besides natural river rocks, you can buy manufactured ones.
6. Wooden Edging
The upside of wooden edging is you can install it in different ways, including a curve, circle, or straight line.
Furthermore, you can make a distinct transition between the hardscape and ground cover by staining or painting the wooden edging.
Despite offering easy installation, wooden edges are susceptible to rotting, fungi, and pests, among other things.
Therefore, choosing the best wood is essential. Excellent choices include cedar and pressure-treated woods because they are resilient against elements and long-lasting.
7. Rubber Edging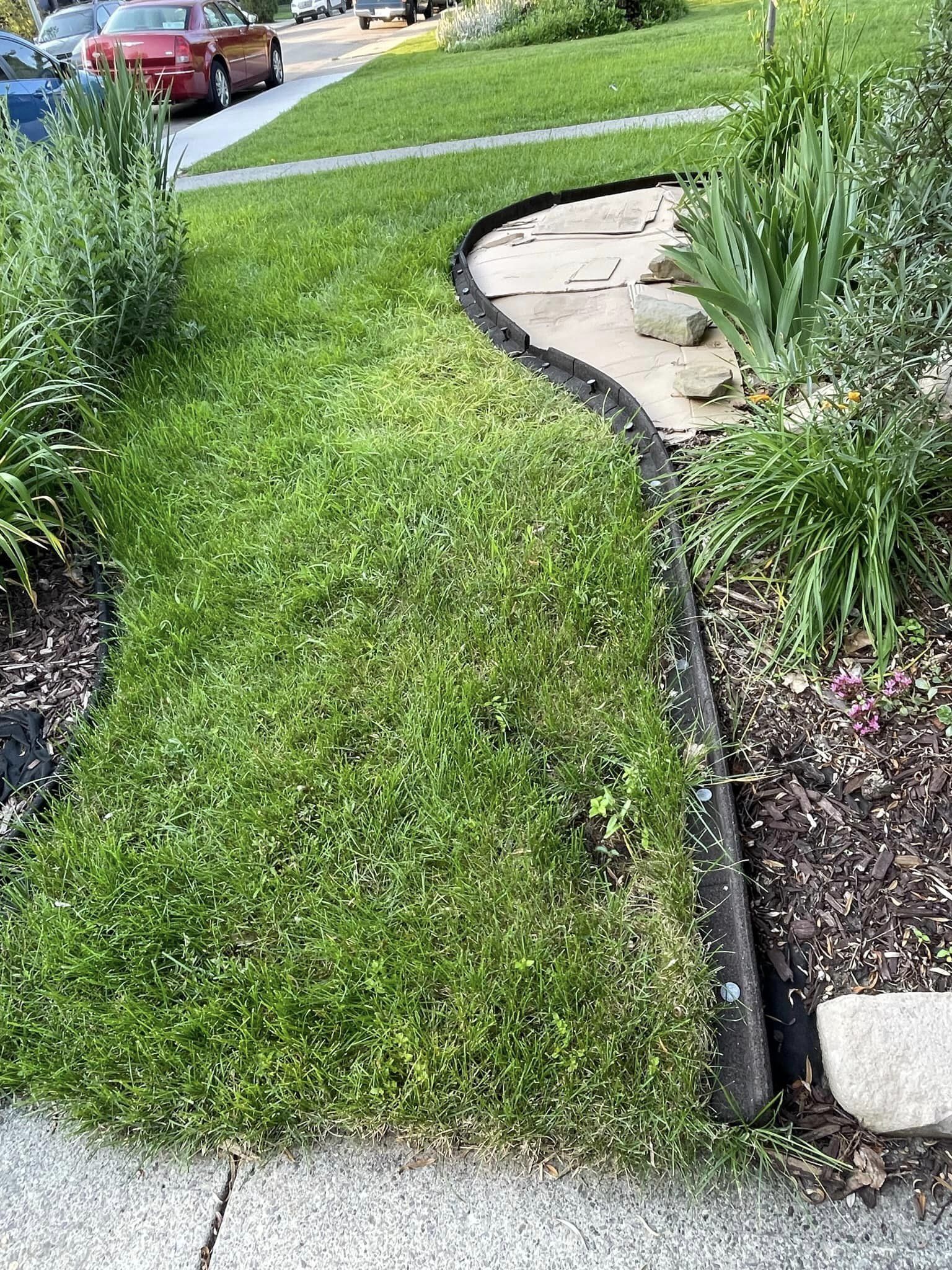 Recycled rubber makes for impeccable lawn edging that's easy to install, inexpensive, and durable.
Although it doesn't offer many options in terms of aesthetics, it's versatile and durable. It's perfect for putting around trees, plant beds, sidewalks, and driveways.
8. Rope Edging
With garden pegs (u-shaped) and a long, thick rope, you can design an outstanding lawn edge.
This idea allows you to adopt unique themes by playing with different color schemes and even introducing outdoor lanterns. Rope edging can help you contain gravel.
9. Old Bottles Edging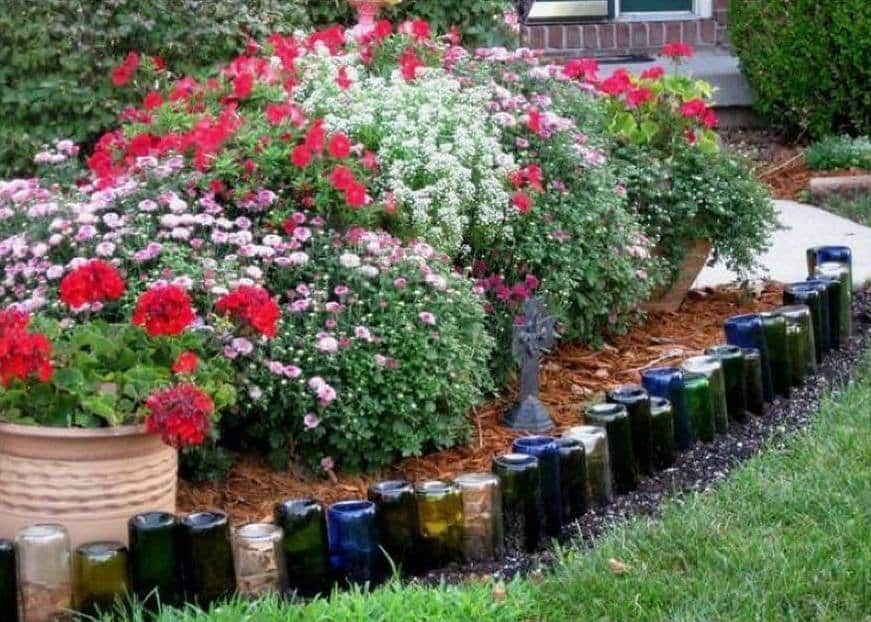 Instead of dumping old bottles such as wine bottles, convert them to lawn edging. Bury the bottles into the edges of your yard with the necks down, creating a lovely pattern.
You can either go for uniformity using bottles of the same color or a contrasting look by forming a pattern with different colored bottles.
10. Old Vinyl Records
Instead of throwing your old vinyl records for an eclectic look, and provides a perfect way to showcase your personality.
It is also cheap as it doesn't involve buying anything and helps you de-clutter your garage, attic, basement, cupboards, or any other place you keep your vinyl records.
Instead of vinyl records, use tire rims.
11. Gravel Edging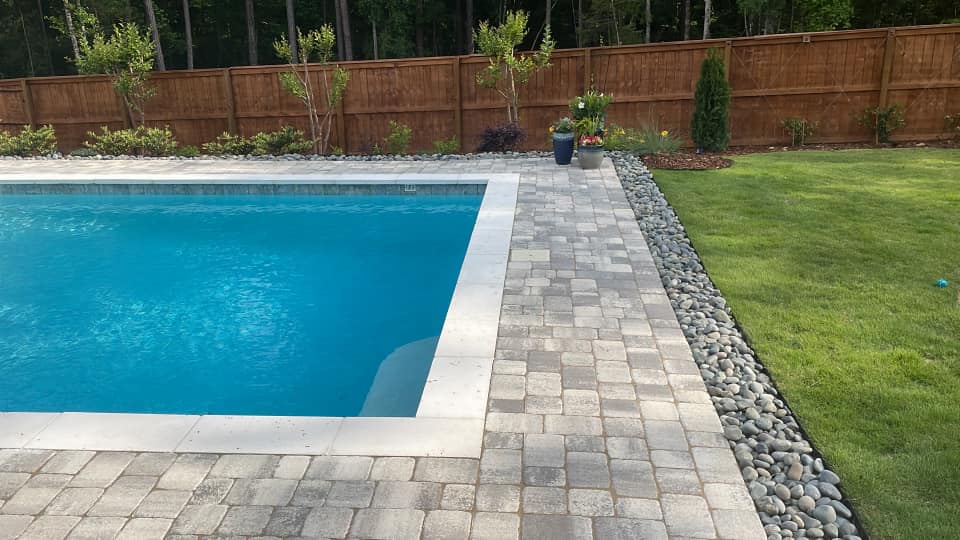 Exercise your creativity by playing with gravel's different sizes, colors, and patterns to develop a beautiful lawn edge.
Use larger gravel in wide or large flowerbeds and large yards. On the other hand, fine gravel suits smaller gardens and features like sheds, patios, ponds, and statues.
12. Boulder Border Edging
This look doesn't take much to achieve; in fact, not much creativity goes into installing a boulder border lawn edge.
You simply need to find the boulders and then lay them along your lawn perimeter. This lawn edge is pretty cheap if you already have boulders in your home.
13. Decorative Mini Fence Edging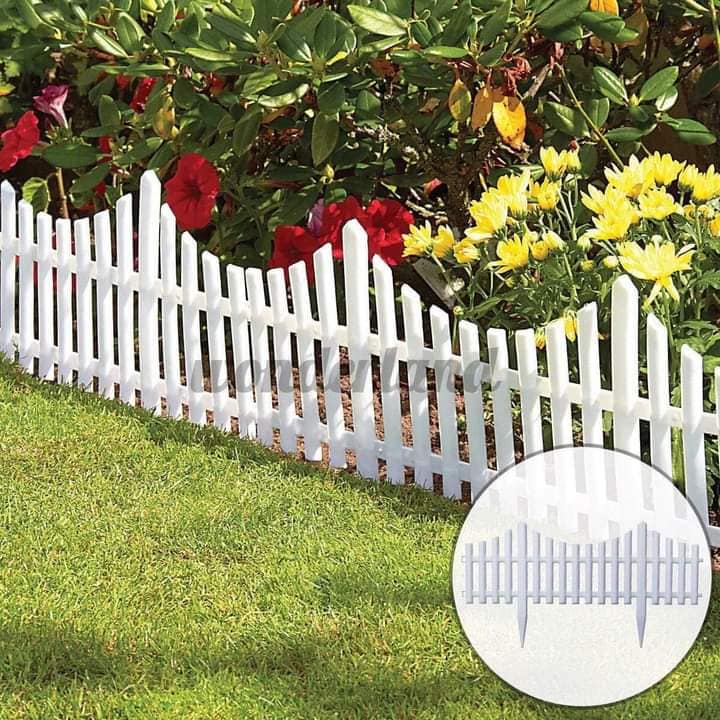 Line your lawn edge with a little decorative fence to create clean, lovely lines. Decorative fences exist in different sizes and types, such as plastic, wood, and metal. Metallic decorative fences are more durable.
This fence allows creativity. For instance, you can combine it with other lawn edgings like cobbles, stones, gravel, and rocks.
14. Wooven Edging
Spend your free time weaving a lawn edge for your home using branches and twigs like hazel. The result will be a simple, budget-friendly, lovely natural edge.
This type of lawn edge is commonly seen in country or English gardens and is popular in Europe.
You can purchase a pre-woven edge if you don't have time to do it yourself or lack the expertise.
15. Terra Cotta Edging
The earthy colors of terra cotta will make your lawn edge strikingly beautiful, and the best part is it doesn't cost much money.
This lawn edging idea comes in various styles, including half rope, rope top, wavy, ruffled, one-of-a-kind accent, handmade, and antique.
16. Galvanised Steel Edging
This galvanized steel-made lawn edging is affordable, practical, and easy to install. It is sturdy and rustproof, withstanding regular contact with strimmers and mowers, so it will serve you for many years.
17. Bamboo Edging
Bamboo lawn edging is natural, unique, easy to install, and affordable. Besides buying this lawn edge, you can make yours using garden wire and bamboo; this way, you can choose your desired height.
18. Cobblestone Edging
Cobblestone lawn edging provides an excellent way of softening asphalt driveways' rugged appearance and distinguishing the border between the lawn and flowerbeds. Also, it helps border a gravel, brick, and flagstone walkway.
What Tool Do You Use To Edge A Lawn?
You can edge your lawn using different tools. These are:
1. Manual Lawn Edgers
These tools are labor intensive; hence better for edging smaller lawns rather than big ones. Also, it is better to use them on damp ground. They are easy to store and maintain, eco-friendly, and cheap.
The different manual lawn edgers types are:
Half-Moon Edger or Stick– this tool's blade is half-moon shaped and available in various sizes. The blade's curved edge does the lawn edging work.
Rotary Lawn Edger or Edging Irons– its blade looks like cowboy boots' spokes.
2. Powered Lawn Edgers
Electric edgers are better suited for edging larger areas and have adjustable blade height. The different powered edger types are petrol and electric. Electric edgers are quieter and lighter compared to petrol edgers but produce less power. However, they are easy to store because they are smaller and are emission-free.
3. Chemical Lawn Edgers
Use these chemicals to treat the lawn areas you wish to edge and wait 7 to 10 days for the weeds and grass in these regions to die. The downside is you may kill more ground cover than you initially planned to eliminate.
Final Remarks
Considering there are a plethora of choices when it comes to cheap lawn edging ideas, your yard edges don't have to be untidy. Adopt a style that complements your style and showcases your personality a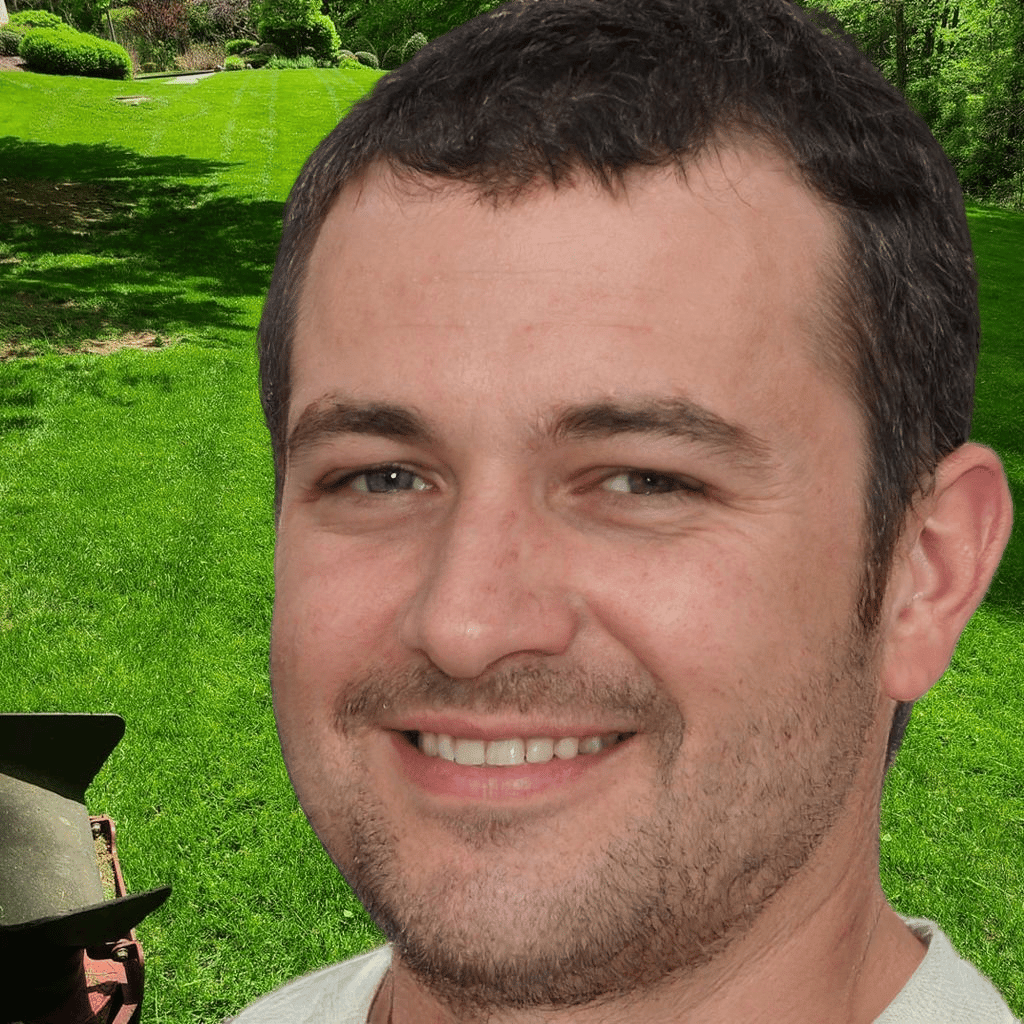 Hey there, I'm Derek Schew, a writer for Lawnholic.com, where we cover everything and anything related to lawns. As someone who's spent countless hours tending to my own lawn, I'm passionate about sharing my knowledge and helping others achieve the perfect yard. From lawn care tips to product reviews, I'm committed to providing our readers with the most accurate and up-to-date information available. So whether you're a seasoned lawn enthusiast or just getting started, I invite you to join our community and discover the joys of a lush, green lawn.