Are you shopping for the best lawn mower for women? You must know what to look for because while there are numerous lawnmowers, not everyone is suited for women.
Some lawnmowers are too heavy for women to handle comfortably, so you should make your job easier by choosing one you can operate without straining much.
Some of the Best Lawn Mowers For Women are;
Ego Power+ Cordless Electric Walk Behind Self-Propelled Lawn Mower.
WORX Nitro WG753 40V Power Share PRO 21″ Self-Propelled Lawn Mower.
Black+Decker CM1640 16″ 40V Cordless Lawn Mower.
American Lawn Mower 14-in 4 Reel Lawn Mower.
Black+Decker Cordless Lawn Mower, String Trimmer, Edger, 3-In-1 (Mtc220).
Craftsman M215 159cc 21-Inch 3-In-1 Self-Propelled Gas Powered Lawn Mower.
While your lawnmower needs to be easier to handle, it would also be best if it is safe for your safety and that of your lawn.
Let's look at the 6 best lawnmowers for women.
6 Best Lawn Mower For Women
1. Ego Power+ Cordless Electric Walk Behind Self-Propelled Lawn Mower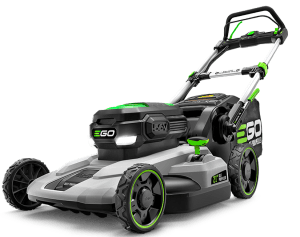 The EGO Power+ LM2142SP is a cordless electric lawnmower with two 5.0 Ah batteries and a charger. It features a 21-inch cutting deck, hence suitable for medium to large-sized yards. Also, it can move forward independently since it is self-propelled, reducing the effort required to push it. Click here to see today's price on Amazon.
You can rely on the 56-volt lithium-ion batteries for sufficient power and even interchange them with other EGO Power+ products.
You can simultaneously charge both batteries since the lawnmower has a dual-port feature. The mower also features LED headlights, allowing for mowing in low-light conditions.
Moreover, it offers six positions cutting heights ranging from 1.5 to 4 inches. It also features a three-in-one cutting system, allowing you to pick between side discharging, bagging, or mulching the grass clippings.
It's perfect for women because it's lightweight, operates quietly, and pushing it requires less effort since it self-propels.
Pros
Cordless
Self-propelled
Dual-port battery system
Eco-friendly
Cons
Pricey.
It requires regular maintenance, including cleaning and charging.
You may need extra batteries or multiple charges to mow a large yard.
2. WORX Nitro WG753 Self-Propelled Lawn Mower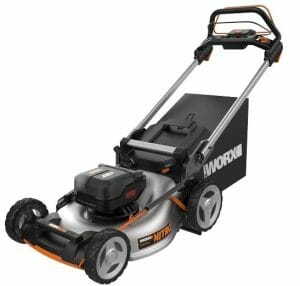 Like the EGO Power+ LM2142SP, this lawnmower is cordless, self-propelled, and designed for residential use. Moving it uphill or through uneven terrains requires little effort due to the self-propelling feature, making it ideal for women. Click here to see today's price on Amazon.
Two 20V Max Power Share batteries power the Worx Nitro Wg753 lawnmower, providing a total of 40V, and also features a 21-inch cutting deck.
Also, adjust the cutting height to the desired level from 1.5 to 4 inches using the single-lever adjustment system.
Moreover, it has a grass bagging system, mulching capability, and side discharge chute. The bagging system holds up to 1.4 bushels of grass clippings.
At the same time, the mulching capability lets you chop the grass clippings finely and distribute them evenly over the lawn, providing natural fertilization.
You can interchange its batteries with other WORX Power Share tools. It's lightweight (weighs 68 pounds), easy to maneuver, operates quietly, and is easy to use, making it ideal for women.
Pros
Multiple cutting settings
Cordless design
Adjustable cutting height
Folding handles
Cons
Regular maintenance needed.
You may need to charge it multiple times or use extra batteries to mow thicker grass or a bigger yard.
Also Read: Can You Ride A Lawn Mower While Pregnant?
3.Black+Decker CM1640 16″ 40V Cordless Lawn Mower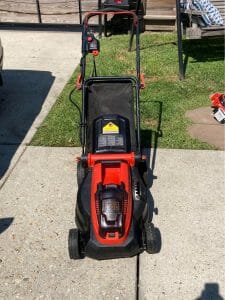 This powerful and efficient lawn mower is designed for medium to large-sized lawns. It comes with a 40V MAX* lithium-ion battery, offering a run time of up to 40 minutes on a single charge. Click here to see today's price on Amazon.
Also, it has a convenient and comfortable carrying handle and a folding design, so storing it is easy.
Each pass lets you cut a wide swatch thanks to the 16-inch cutting deck. It also offers six cutting heights to accommodate your yard's needs.
Besides providing a powerful performance, the CM1640 is also comfortable because it's padded, easy to maneuver and use, and lightweight.
The bagging and mulching feature also allows you to either collect the grass clippings or mulch them for soil nutrition.
This lawnmower is best for women looking for an efficient, powerful mower that is also pretty comfortable, easy to maneuver, lightweight, and adjustable.
Pros
The cordless design makes maneuvering easy.
It has a powerful battery.
Bagging and mulching feature.
Ergonomic handle with padded grip.
Folding design
Cons
Replacing the battery and charger may be problematic since it is proprietary to Black+Decker.
It may not be ideal for tougher or bigger lawns.
4. American Lawn Mower 14-in 4 Reel Lawn Mower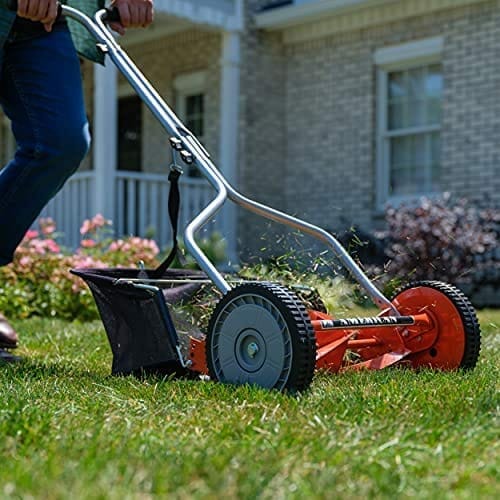 It's designed to provide a clean, precise, and eco-friendly cutting solution for small lawns. It features a 4-blade heat-treated alloy steel-made reel capable of easily cutting grass up to 4 inches tall and delivering a scissor-like, sharp cut that promotes healthy lawn growth. Click here to see today's price on Amazon.
The American Lawn Mower Company 1204-14 is an eco-friendly, low-maintenance alternative to gas-powered mowers since it operates without gas, oil, or electricity.
It has an ergonomic T-style handle with cushioned grips that provide comfort and control while mowing.
This lawnmower weighs only 19 pounds, making it easy to maneuver and thus ideal for women. Also, it offers nine cutting heights ranging from 0.5 to 1.75 inches, giving you complete control over your lawn's appearance.
Pros
Lightweight and easy to maneuver
Environmentally friendly
It offers clean and precise cutting results
Quiet operation
Low maintenance
Cons
It needs physical effort to move
Cutting wet grass can clog the blades
5. Black+Decker Cordless Lawn Mower, String Trimmer, Edger, 3-In-1 (Mtc220)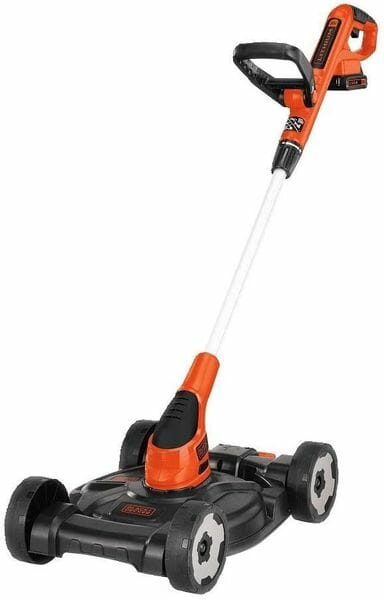 This versatile, battery-powered mower with a 20V MAX Lithium-Ion battery will help you maintain your lawn by providing long-lasting power and performance. Click here to see today's price on Amazon.
The mower has a 12-inch cutting deck and can adjust to 3 cutting heights for custom mowing. The string trimmer and edger also have adjustable heights and a 12-inch cutting swath.
Since it has 3-in-1 functionality, you can use the Mtc220 as a mower, trimmer, or edger, depending on your specific needs. You can also switch between modes easily and quickly because of the tool-free conversion system.
Moreover, the easily-detachable grass box allows for easy grass clippings disposal.
In addition, you can move around your lawn freely while mowing because this mower's cordless design means it won't be tethered to an electrical outlet. Also, its battery is compatible with other Black+Decker tools.
The adjustable height, lightweight, and easy conversion system makes Mtc220 great for women.
Pros
Versatile and convenient
Cordless design
Detachable grass box
High performing and powerful
Cons
Smaller cutting width
You may require multiple recharges to mow a large lawn
6. Craftsman M215 3-In-1 Self-Propelled Gas Powered Lawn Mower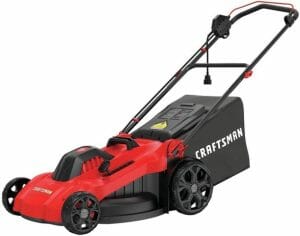 The Craftsman M215 is perfect for individuals looking for a gas-powered lawnmower. It features a 159cc engine and a 21-inch cutting deck and is self-propelled, making it easy to maneuver over hilly or uneven terrain. Click here to see today's price on Amazon.
Additionally, it offers better traction and easier handling thanks to its high-wheeled design.
Also, the 3-in-1 capability lets you bag, discharge, and mulch the clippings. Another upside is that the bagger has a large capacity, so you can mow for extended periods without stopping to empty it.
Moreover, use the discharge when you want to cut quickly without collecting the grass clippings.
On the other hand, the mulching feature allows you to shred the grass clippings into smaller pieces to fertilize your yard naturally.
This reliable, durable lawnmower also provides multiple cutting heights ranging from 1.25 to 3.75 inches.
The bagger means you don't have to manually collect and list grass clippings, while the two-wheeled design offers better handling and traction on rough terrains.
Other features that make it ideal for women are the self-propelled design and height adjustment.
Pros
Large capacity bagger
Self-propelled design
Superb handling and traction on rough terrains
3-in-1 capability
Cons
Noisy and fumes emitting engine.
It's heavy.
Less environmentally friendly than battery or electric-powered lawnmowers.
Features Of A Good Lawn Mower For A Woman
The best lawnmower for women may vary based on one's preference, physical ability, and lawn size and shape. However, below are the features to look for:
a) Lightweight
Lighter mowers are easier to maneuver, push, and lift, making them more suitable for women with less upper body strength than men.
b) Ergonomic Handles
Comfortable and ergonomic handles reduce fatigue and strain on your hands, arms, and back, making mowing more comfortable and enjoyable.
c) Easy To Start
If your mower has an easy start mechanism, such as an electric or push-button start, operating it becomes more convenient and less physically demanding than a pull-cord starter.
d) Compact Size
Maneuvering small or tight spaces is easier with a compact-sized lawnmower. This makes it easier for women to mow around obstacles or navigate through narrow paths.
e) Low Noise Levels
quiet lawnmowers are less disruptive and more suitable for noise-sensitive areas or neighborhoods.
f) Low Maintenance
If you don't have time or resources to perform regular tune-ups or oil changes, get a mower that requires minimal maintenance, such as an electric or manual reel mower.
Summary
The lawnmowers reviewed above are perfect for women, so you should be able to keep your lawn in excellent condition with any of these mowers. However, your best option will be based on your budget, preference, and lawn needs.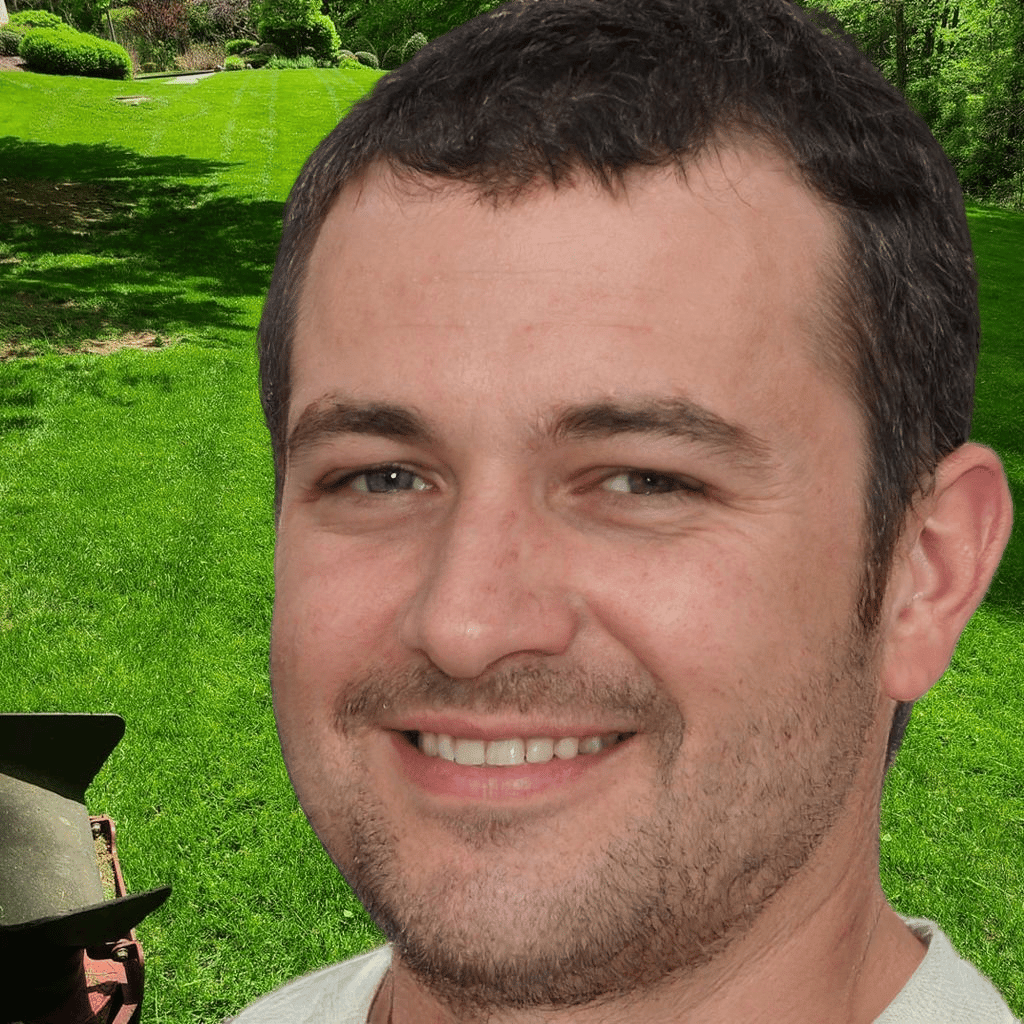 Hey there, I'm Derek Schew, a writer for Lawnholic.com, where we cover everything and anything related to lawns. As someone who's spent countless hours tending to my own lawn, I'm passionate about sharing my knowledge and helping others achieve the perfect yard. From lawn care tips to product reviews, I'm committed to providing our readers with the most accurate and up-to-date information available. So whether you're a seasoned lawn enthusiast or just getting started, I invite you to join our community and discover the joys of a lush, green lawn.